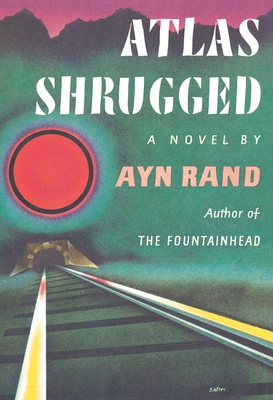 Atlas Shrugged
(Centennial Edition)
Paperback

* Individual store prices may vary.
Other Editions of This Title:
Hardcover (4/21/2005)
Prebound (9/1/1996)
Audio Cassette (12/1/1991)
Hardcover, Chinese (9/7/2012)
Audio Cassette (12/1/1991)
Paperback (10/1/2007)
Audio Cassette (12/1/1991)
Pre-Recorded Audio Player (1/1/2009)
MP3 CD (3/1/2010)
Compact Disc (12/1/2008)
Compact Disc (3/1/2010)
Prebound (8/1/1999)
Description
Peopled by larger-than-life heroes and villains, charged with towering questions of good and evil, Atlas Shrugged is Ayn Rand's magnum opus: a philosophical revolution told in the form of an action thriller—nominated as one of America's best-loved novels by PBS's The Great American Read.

Who is John Galt? When he says that he will stop the motor of the world, is he a destroyer or a liberator? Why does he have to fight his battles not against his enemies but against those who need him most? Why does he fight his hardest battle against the woman he loves?

You will know the answer to these questions when you discover the reason behind the baffling events that play havoc with the lives of the amazing men and women in this book. You will discover why a productive genius becomes a worthless playboy...why a great steel industrialist is working for his own destruction...why a composer gives up his career on the night of his triumph...why a beautiful woman who runs a transcontinental railroad falls in love with the man she has sworn to kill.

Atlas Shrugged, a modern classic and Rand's most extensive statement of Objectivism—her groundbreaking philosophy—offers the reader the spectacle of human greatness, depicted with all the poetry and power of one of the twentieth century's leading artists.
NAL, 9780452286368, 1192pp.
Publication Date: December 28, 2004
About the Author
Born February 2, 1905, Ayn Rand published her first novel, We the Living, in 1936. Anthem followed in 1938. It was with the publication of The Fountainhead (1943) and Atlas Shrugged (1957) that she achieved her spectacular success. Rand's unique philosophy, Objectivism, has gained a worldwide audience. The fundamentals of her philosophy are put forth in three nonfiction books, Introduction to Objectivist Epistemology, The Virtues of Selfishness, and Capitalism: The Unknown Ideal. They are all available in Signet editions, as is the magnificent statement of her artistic credo, The Romantic Manifesto.
What and where is the "utopia of greed"?
Why does Dagny Taggart, a woman of ruthless logic who passionately loves life, chase a mysterious stranger's plane in her own plane when she knows it will lead to her virtually certain death?
Why do Dagny Taggart and Lillian Rearden—both highly affluent women—fight over a cheap metallic bracelet? Who gets to keep the bracelet, and at what cost? What is Lillian's real motive in trapping her husband Hank in infidelity?
Why does Francisco d'Anconia, heir to the greatest fortune in the world and a productive genius with boundless ambition, seek ever more outrageous ways to destroy his own business empire? Why does he turn into a playboy who forsakes the woman he loves and instead seduces prominent women who are of no interest to him?
When an entire country tells them that their railroad bridge, constructed from a new ultralight metal, won't stand under the onrush of a speeding train, why are Dagny Taggart and Hank Rearden so confident that it will? Were you convinced by the arguments offered against them by their opponents? Whom did you side with? Why?
According to Atlas Shrugged, selfishness is both moral and practical. What does Ayn Rand mean by "selfishness"? Compare the actions and character of James Taggart, Hank Rearden, Orren Boyle, and Francisco d'Anconia: Who is selfish and who is not? Can you present arguments for or against Ayn Rand's view of selfishness? Contrast Ayn Rand's approach with that of the ethics of Christianity.
What basic motive unites people who brag about their sexual promiscuity and people who demand economic handouts from the government?
Explain the meaning and wider significance of the following quote from Atlas Shrugged: "The words 'to make money' hold the essence of human morality." Explain what ideas underlie the maxim that "money is the root of all good."
Capitalism is often defended by appeal to the "public good"; that is, solely because its economic efficiency benefits society. Contrast this with Ayn Rand's defense of capitalism, as dramatized in Atlas Shrugged.
Coverage from NPR