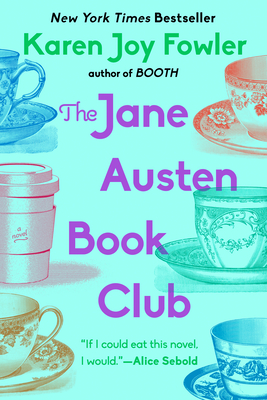 The Jane Austen Book Club
Paperback

* Individual store prices may vary.
Other Editions of This Title:
Digital Audiobook (1/10/2011)
Description
THE NEW YORK TIMES BESTSELLER

A book club discuss the works of Jane Austen and experience their own affairs of the heart in this charming "tribute to Austen that manages to capture her spirit" (The Boston Globe).

In California's central valley, five women and one man join to discuss Jane Austen's novels. Over the six months they get together, marriages are tested, affairs begin, unsuitable arrangements become suitable, and love happens. With her eye for the frailties of human behavior and her ear for the absurdities of social intercourse, Karen Joy Fowler has never been wittier nor her characters more appealing. The result is a delicious dissection of modern relationships.

Dedicated Austenites will delight in unearthing the echoes of Austen that run through the novel, but most readers will simply enjoy the vision and voice that, despite two centuries of separation, unite two great writers of brilliant social comedy.
Praise For The Jane Austen Book Club…
Praise for The Jane Austen Book Club

"Ms. Fowler, an original and unexpectedly voiced novelist, takes her own place among the shining responders. Not just with comments of her own, though there are some excellent ones, but with the entire playful structure of her new novel."—Richard Eder, The New York Times

"If I could eat this nove, I would...A luxuriant pleasure!"—Alice Sebold

"It's natural to approach a novel titled The Jane Austen Book Club with caution, but Karen Joy Fowler's funny, erudite nvoel proved to be a surprise and a delight, a tribute to Austen that manages to capture her spirit."—The Boston Globe

"Karen Joy Fowler creates a novel that is so winning, so touching, so delicately, slyly witty that admirers of Persuasion and Emma will simply sigh with happiness."—Michael Dirda, The Washington Post Book World

"Start quoting a few of Fowler's puckish lines and it becomes damnably difficult to stop...The Jane Austen Book Club amounts to a witty meditation on how the books we choose, choose us too."—San Francisco Chronicle

"The Jane Austen Book Club offers a sparkling rumination on the act of reading itself and how beloved books can serve as refuge, self-definition, snobbish barricades against other people or pathways out of the old self to a wider world. [It is] a terrific comic novel about a closed society merrily transforming itself by reading."—Maureen Corrigan, NPR's All Things Considered

"[Fowler] does so terrific a job of bringing her characters to life that Austen's work falls away like a husk. It's an impressive feat of homage, since Fowler essentially borrowsAusten's great themes...and makes them her own. Miss Austen would be proud."—The Denver Post
G.P. Putnam's Sons, 9780452286535, 320pp.
Publication Date: April 26, 2005
About the Author
Karen Joy Fowler, a PEN/Faulkner and California Book Award winner, is the author of six novels (two of them New York Times bestsellers) and four short story collections. She has been a Dublin IMPAC nominee, and was shortlisted for the Man Booker Prize in 2014. She lives in Santa Cruz, California.
The author opens the novel with a quote from Jane Austen, part of which reads, "Seldom, very seldom does complete truth belong to any human disclosure." Do you agree with this sentiment? Why do you think the author chooses to open the novel with this quote?
When the group is first being formed, Bernadette suggests that it should consist exclusively of women: "The dynamic changes with men. They pontificate rather than communicate. They talk more than their share." What do you think of her statement? How does Grigg affect the group's dynamic? How would things have been different without him?
While the group is reading Sense and Sensibility and discussing Mrs. Dashwood, Sylvia mentions that "the problems of older women don't interest most writers" and is thrilled that Austen seems to care. Do you agree with this, that most writers aren't interested in older women? What about society in general? How does Fowler approach older women? Later, Prudie says that "An older man can still fall in love. An older woman better not." Do you agree? How does Fowler deal with this issue?
Sylvia asks, "Why should unhappiness be so much more powerful than happiness?" How would you answer her?
The book club meets from March through August. How does the group change over these six months? "I always like to know how a story ends," Bernadette says. How do you think this story ends (the "epilogue to the epilogue")?
At the end of the novel, Jocelyn reluctantly agrees to read some science fiction, including the work of Ursula Le Guin, and really likes it. What other authors do you think the group might like? Although they would have to change the name of their group, what author would you suggest for the Central Valley/River City all-Jane-Austen-all-the-time book club to read next? What do you suggest for your own group?
If you're new to Jane Austen, are you now interested in reading her work? Based on what you've learned from Karen Jay Fowler, which novel would you go to first? If you are already a "dedicated Janeite," how has reading The Jane Austen Book Club made you feel about your favorite author? How would you describe you own "private Austen"? What novel would you recommend to first-time readers of Austen?