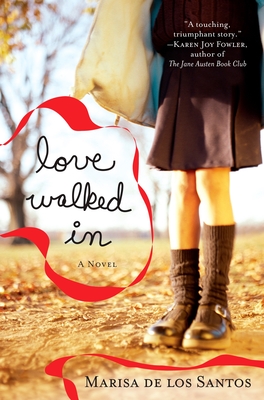 Love Walked In
Paperback

* Individual store prices may vary.
Other Editions of This Title:
Digital Audiobook (3/5/2008)
Description
From the New York Times bestselling author of I'd Give Anything and I'll Be Your Blue Sky comes a "bewitching, warmhearted grown-up fairy tale about old movies, charming princes, and finding happily ever after in the place where you'd least expect it" (Jennifer Weiner).

When Martin Grace enters the hip Philadelphia coffee shop Cornelia Brown manages, her life changes forever. But little does she know that her newfound love is only the harbinger of greater changes to come. Meanwhile, across town, Clare Hobbs—eleven years old and abandoned by her erratic mother—goes looking for her lost father. She crosses paths with Cornelia while meeting with him at the café, and the two women form an improbable friendship that carries them through the unpredictable currents of love and life.
Praise For Love Walked In…
Praise for Love Walked In

"Exquisite and stylish, Love Walked In proves that love in all of its forms—romantic, friendship, familial—is all around us."—Sarah Jessica Parker

"This is a book that will be passed from friend to friend with the words, 'You have to read this.'"—Richmond Times Dispatch

"The kind of book that makes you want to hunker down on a chilly day in a comfy chair and read straight through 'til dark...This [is a] poignant, heart-tugging story about a single woman and a little girl who develop an unlikely bond."—The Washington Post Book World

"A touching, triumphant story of the power and variety and responsibility of love. A joy to read, filled with characters you wish you knew in real life. Love Walked In is every bit as engaging as the classic movies Marisa de los Santos lovingly invokes."—Karen Joy Fowler, New York Times bestselling author of The Jane Austen Book Club and We Are All Completely Beside Ourselves

"Marisa de los Santos's funny and beautifully written love story is as luminous as the silver screen."—Lolly Winston, author of Good Grief

Plume, 9780452287891, 320pp.
Publication Date: November 28, 2006
About the Author
A New York Times bestselling author and award-winning poet with a PhD in literature and creative writing, Marisa de los Santos lives in Wilmington, Delaware, with her family. She is the author of I'll Be Your Blue Sky, Love Walked In, Saving Lucas Biggs, Belong to Me, Falling Together, The Precious One, and the poetry collection From the Bones Out.
Discuss Clare's attraction to fictional orphans. Why is she so fascinated by them, even before her mother leaves? Why can she relate to them? In what ways is she abandoned even before she is actually abandoned?
Cornelia claims that she doesn't fantasize about living in an old Hollywood movie, but it becomes clear that she does. In what ways does she try to keep her own desires for the perfect Hollywood romance at bay? Why does she think she'll never have it? Does she harbor false of unrealistic expectations about love? In what ways, in the end, is Cornelia's story "old Hollywood?"
Why do you think Cornelia is so immediately drawn to Martin Grace? What does he represent to her? In what ways does he live up to her expectations? In what ways does he fail?
Discuss Martin's reaction to Clare's situation. Why do you think he never told Cornelia about Clare? Once Clare reappears in his life, what do you make of his actions and reactions to both Clare and to the missing Viviana? Do you think he handles it well?
In what ways are Cornelia and Clare alike? Why does Cornelia immediately feel the need to comfort Clare? How do they fill empty places in each other's lives? Also, why does Clare take to Teo so quickly when she can't do the same for her father? What about Cornelia and Teo together comforts Clare?
Clare realizes quickly that her father does not love her. Do you think that she's correct in her assessment? Do you think, in general, she is fair to Martin? Is Cornelia? When Martin told Cornelia he loved her, did you believe him? Why or why not? Do you think it's possible that he could love Cornelia but not his own daughter?
Why does Cornelia insist on taking Clare to her own house for Christmas? Do you think that was a mistake? In what other ways does Cornelia try to accommodate Clare? Why do you think she does these things? In what ways does returning to the house help Cornelia to better understand Clare? Why is this so important later on?
On p. 184, Clare thinks about love: "What she came to was that even if someone wasn't perfect or even especially good, you couldn't dismiss the love they felt. Love was always love; it had a rightness all its own, even if the person feeling the love was full of wrongness." Do you think Martin is a bad person? Do you think he deserves Cornelia's love? Clare's? Why or why not?
What do you make of Clare's reaction to Martin's death? Discuss the conversation she has with Teo on p. 204. Why does Clare think she's evil? Do you think she is? Why do you think she can have such open conversations with Teo? What about him makes him so trustworthy to her? Why are his opinions so important? What void does he fill in her life?
Throughout the novel, Linny is a very stabilizing force. What about her soothes Cornelia? Why are both Clare and Cornelia so relieved when Linny arrives just after Viviana? What role does Linny's character play in the novel? In what ways is she the opposite of Cornelia? Why is that something both Clare and Cornelia need so badly?
Were you surprised by Vivana's return? Did you believe that she would return? Do you think Cornelia's plans for herself and Clare were realistic?
What does Mrs. Goldberg represent to Cornelia? How do her memories of Mrs. Goldberg help her through difficult situations? How do her stories about Mrs. Goldberg help Clare? What does Mrs. Goldberg's house represent to Cornelia? To Clare? Why does Clare want so badly to stay there?
In the end, do you think Cornelia makes the right decision to leave Clare with Viviana? How is leaving them at Mrs. Goldberg's different than them returning to their own home? Why does it seem safer to all of them? Do you think Clare will really forgive Cornelia for leaving her?
Why is Cornelia surprised to discover that she is in love with Teo? Were you surprised? Why or why not? In what ways is he exactly what she was looking for? In what ways is he not? What do you make of his relationship with Ollie? Do you think he and Cornelia have a chance? Why or why not?