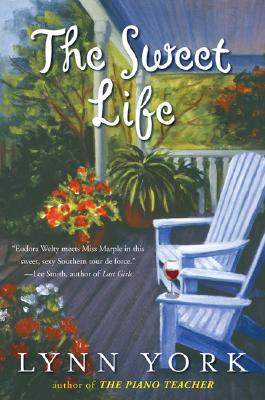 The Sweet Life
Paperback

* Individual store prices may vary.
Description
The heartwarming sequel to"The Piano Teacher"
In her eagerly anticipated second novel, "The Sweet Life," York catches up with the good people of Swan's Knob for another poignant, funny, and beautifully realized glimpse of small-town life in the South.
It's been eight years since Roy Swan successfully won the hand of piano teacher and resident choir director, Miss Wilma and now, their lives have settled into a state of happy predictability. But all that changes with the arrival of Miss Wilma's teenage granddaughter, whose estranged father, Harper, follows shortly behind. Soon Harper has convinced Roy to let him stage a small country and bluegrass concert in his pasture, drawing thousands of screaming fans, not to mention a small forest of Porta Potties. Roy and Wilma weather each new tempest with grace and grit, until a crippling stroke leaves Roy debilitated and life in Swan's Knob becomes a lot less simple.
A worthy successor to her memorable debut, Lynn York s"The Sweet Life"weaves a story at once whimsical and wise, filled with all the warmth and charm of the South itself.
Plume, 9780452288225, 304pp.
Publication Date: February 27, 2007
Evaluate the structure of the novel. How effective was York's method of telling us this story through several perspectives? Describe key differences between each character's perspective by comparing and contrasting them: For instance, compare Miss Wilma's sections with Star's; or, Roy's with Harper's; or Celeste's with Josh's. By the book's end, was there any particular character you wish you'd heard from one more time? By the last page, did you want to know more? If so, about what?
At the outset of the novel Miss Wilma suspects her husband, Roy Swan, of having an extramarital affair with a younger woman. Discuss Wilma's motivation for feeling this way – is it because she is slow to trust others (like Harper or Star) or because she doesn't trust herself? (Remember, she feels guilty about missing the warning signs that preceded her first husband's suicide). At the outcome of the book, what are we to believe about the trust we put in others? Does York have a definitive, black-and-white answer for us, or is her message more complex?
While The Sweet Life is an elaborate narrative with several subplots, it's also a fairly comprehensive study of interpersonal relationships. Compare and contrast the following relationships, and discuss what these pairs reveal to us about the connections we make with other people and the demands we put on those we love: Wilma & Roy; Star & Josh; Celeste and Travis; Harper and Star; Wilma and Sarah.
In The Piano Teacher, the first of York's novels about Miss Wilma and the town of Swan's Knob, Harper was the antagonist to Sarah's protagonist. In The Sweet Life, Harper's the antihero, a character who "saves the day" without having much (at least, at first) that's heroic about him. Discuss his character development through the different roles he plays in the novel: founder of the music festival; father to Star(ling); friend (and possible protege?) of Roy Swan's; and foil to Miss Wilma.
Early in the novel, Celeste and Travis discover their youngest son Josh reading Erica Jong's seminal Fear of Flying, a feminist novel about a woman who jeopardizes her marriage in an attempt to discard all of her old hangups and fears. How does this book act as a symbol within The Sweet Life, and what events or changes does it foreshadow? In particular, discuss the relevance of Fear of Flying to Celeste, who has borrowed the book in secret, and for Josh, who is an adolescent male just beginning to explore his sexuality. (And, discuss the significance of the scene when they discover Josh reading the book – what is implied when Travis tries to explain the book to Josh?)
The Sweet Life is full of bittersweet drama and poignancy, but it's also full of gently comedic moments. Highlight and discuss the importance of such moments in the narrative – what do they do for the reader (besides evoking a smile)? What keeps York's more humorous characters from becoming caricatures or stereotypes? (Like, for instance, Delrina Kay.) And what of characters like Travis, who tread the line between ridiculous (his "healing") and sinister (his treatment of Celeste)?
When Roy slips into a coma after his stroke, we glimpse his dreams, which often involve memories of his youth. Discuss the significance of these particular memories/dreams, and how they explain certain aspects of Roy's character and/or foreshadow events to come. Also, how well do you think York conveys the mindset of a man in a coma? Did you find it believable? Did these segments "work" for you?
If you've read The Piano Teacher, you know that Miss Wilma underwent a gradual but important transformation ten years prior to the months described in The Sweet Life. Over the course of that novel, she became less reserved in her actions, more flexible in her outlook, and she even met the love of her life, Roy Swan. Does Wilma Mabry go through as extensive a transformation in The Sweet Life? What does she learn after enduring Roy's stroke, coma, and isolated rehabilitation? What do we learn from her actions? Despite her prudish, most obstinate moments, what makes us stick with her, and even root for her?
When Roy wakes from his coma and discovers the extent of his impairments, he begins to withdraw from Miss Wilma and keep her at a distance. We're led to understand, as he believes, that he does this out of love for Wilma. To what extent are his actions dictated by pride? At what point does he stop being likable and become rather cruel and ugly? Discuss this development in Roy's character in terms of realism, and then decide what York may be trying to say to us about the nature of pride. (Keep in mind, too, Wilma's refusal to seek Roy out after he has banished her from the Swan homestead.)
Several people try to claim Roy's "healing" as a result of their own good (or bad) deeds: Delrina Kay believes her midnight wine-tasting brought Roy back from the edge of death; Travis insists it was Wilma's anointed laying-on of hands, assisted (of course) by Travis's holy oil and blessing. Even timid Celeste believes her failed mercy killing sparked something in Roy that made him snap out of his comatose state. How do you explain everyone's zeal to lay claim to Roy's recovery? Who do you believe is most responsible for his turn-around? (Either voluntarily or involuntarily.) What (or who) would you describe as the best example of faith in this novel? What is York trying to say about matters of faith, and of life and death?
At the novel's resolution, we learn that Josh and Star will not live "happily ever after" – that Star will return to Santa Fe, the two will grow apart, and that eventually Josh will be married at least twice. And yet, Josh will always remember his time with Star and how he felt when he was with her. How does this connect with (or parallel) the first segment of the book, which describes Roy's encounter with the Korean girl in the window? What do the two segments tell us about the power of memory?
Also at the novel's resolution, Wilma unknowingly utters the punchline to Travis's crude joke about the Widow Green. Discuss the significance of the joke in both contexts, (in the hospital and on the hill at the farm), and how it acts as the perfect "punchline," or ending, for this book.
or
Not Currently Available for Direct Purchase