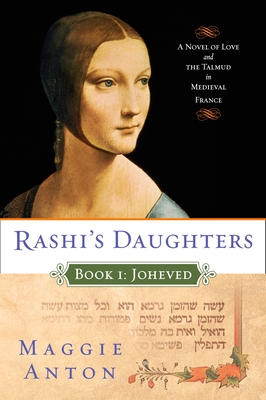 Rashi's Daughters, Book I
Joheved: A Novel of Love and the Talmud in Medieval France (Rashi's Daughters Series)
Paperback

* Individual store prices may vary.
Description
The first novel in a dramatic trilogy set in eleventh-century France about the lives and loves of three daughters of the great Talmud scholar

In 1068, the scholar Salomon ben Isaac returns home to Troyes, France, to take over the family winemaking business and embark on a path that will indelibly influence the Jewish world, writing the first Talmud commentary, and secretly teaching Talmud to his daughters.

Joheved, the eldest of his three girls, finds her mind and spirit awakened by religious study, but, knowing the risk, she must keep her passion for learning and prayer hidden. When she becomes betrothed to Meir ben Samuel, she is forced to choose between marital happiness and being true to her love of the Talmud.

Rich in period detail and drama, Joheved is a must read for fans of Tracy Chevalier's Girl With a Pearl Earring.
Praise For Rashi's Daughters, Book I: Joheved: A Novel of Love and the Talmud in Medieval France (Rashi's Daughters Series)…
"Anton delivers a tour de force . . . [Readers] will fly through the pages and come away wishing for more."—Library Journal (starred review)

"A compelling combination of drama, suspense, and romance."—Lilith magazine
Plume, 9780452288621, 384pp.
Publication Date: July 31, 2007
About the Author
Maggie Anton was born Margaret Antonofsky in Los Angeles, California. Raised in a secular, socialist household, she reached adulthood with little knowledge of her Jewish religion. All that changed when David Parkhurst, who was to become her husband, entered her life, and they both discovered Judaism as adults. In the early 1990's, Anton began studying Talmud in a class for women taught by Rachel Adler, now a professor at Hebrew Union College in Los Angeles. She became intrigued with the idea that Rashi, one of the greatest Jewish scholars ever, had no sons, only three daughters. Slowly but surely, she began to research the family and the time in which they lived. Legend has it that Rashi's daughters were learned in a time when women were traditionally forbidden to study the sacred texts. These forgotten women seemed ripe for rediscovery, and the idea of a book about them was born.
What tone does the opening scene set? What does it tell you about Joheved's character?
Describe how the bond between Joheved and Salomon develops and changes with time? Discuss the pros and cons of Jewish childhood in medieval France.
Rashi's Daughters is filled with carefully researched historical anecdotes that the author uses as inspiration for her own imagined scenes. Discuss this interplay of fact and fiction.
Rivka is upset with her daughters learning Talmud. Are her objections reasonable? Why would men not want women in a position of knowledge? What is threatening about educated women? Discuss the role of women in medieval society versus their role today.
Joheved and Meir have an arranged marriage, as do Salomon and Rivka. Compare Joheved and Meir's relationship to Salomon and Rivka's? To Miriam and Benjamin's? Discuss the pros and cons of arranged marriage versus marrying for love. Why would Sarah prefer widowhood to remarriage?
Salomon's decision to write down his kuntres is a controversial innovation. Discuss how a society is changed in a shift from oral to written tradition.
Relations between French Jews and Christians were fairly tolerant during this time. Was this lack of overt anti-Semitism surprising? What other myths about medieval times did Rashi's Daughters debunk?
Which characters resonated the most powerfully for you? Were there others you would have liked to have known more about? Why?
What do you see in the future for Rachel? Are there any clues that indicate what might happen?
Religion was a powerful force for both Jews and Christians in medieval times. Is religion as powerful now? How does your religion, or lack of one, influence your life?
or
Not Currently Available for Direct Purchase