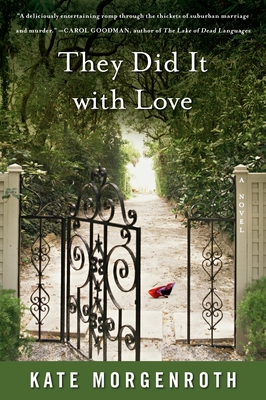 They Did It with Love
Paperback

* Individual store prices may vary.
Description
Secrets lurk under the smooth surface of a wealthy Connecticut neighborhood, until a murder reveals all

Sofie and her husband have left Manhattan in search of a more tranquil life in the suburbs. But when a member of Sofie's new neighborhood book club turns up dead, things get messy. She discovers that everybody has something to hide, including her own husband. Her neighbor Priscilla has been married to Gordon for fifteen years, but the love left their marriage a long time ago. Susan is Priscilla's biggest supporter until she has to choose between loyalty to her friend and telling the truth. Ashley is eager to fit in, but her youth and status as a second wife keep her on the outside. She may know more than they think she does, though. Julia seems to have it all: the perfect house, job and husband. But her untimely death has people questioning how perfect her life really was. Through this swamp of suburban secrets, Sofie must wade to find the truth behind Julia's murder and the state of her own marriage. They Did It with Love is a delightful, twisty, and twisted exploration of the things we'll do for love.
Praise For They Did It with Love…
"Elegantly written, with both sharp psychological portraits and an intriguing mystery that keeps you turning pages without feeling manipulated. Subtle and satisfying, They Did It with Love belongs with the best of the genre."—Carol Feliciano, The Seattle Post-Intelligencer
 
"[A] delightfully perverse whodunit… Morgenroth's greatest accomplishment is the ease with which she describes a certain kind of ennui and aimlessness—and the kinds of fatal betrayals that can lurk beneath all that suburban gloss."—Amy Alexander, The Washington Post
 
"Agatha Christie meets The Stepford Wives in this rolling read."—Marie Claire
 
"Agatha Christie meets Desperate Housewives in Morgenroth's smashing, Stepfordesque mystery… The character development and local color are so strong that this would be a hit even without the dazzling surprise ending."—Publishers Weekly
Plume, 9780452288973, 336pp.
Publication Date: December 18, 2007
About the Author
Kate Morgenroth is the author of the bestseller They Did It With Love, two thrillers, Kill Me First and Saved, and three young adult novels, Jude, Framed, and Echo. She lives in New York City.
Did you figure out who the murderer was before the reveal?
How did you feel when you discovered who killed Julia? Did you feel sympathetic to the murderer?
What clues does Morgenroth give to the murderer's identity throughout the novel? Are there false clues that point to others?
There are several different marriages and serious relationships portrayed in the novel. Which ones do you think will survive for the long haul and why do you think those characters work as a couple?
Would you join Priscilla's book group if you were invited?
Priscilla has very specific rules for her book group. Do you agree with her rules or disagree with them? How important are rules in your book group (supposing you are in one)?
Would you characterize your neighborhood as a close community? Is your community like the one that Morgenroth portrays here, with competition over holiday decoration and parties and secrets from your neighbors?
Do you think that a community in the suburbs is more prone to secrets and competitive nature than a community within a city? Why or why not?
Did you relate to Sophie's fears and concerns about moving out of the city to a suburban environment? Have you made a similar move and were you glad you did?
If you are living in a small town or a suburb now, could you imagine yourself living in a large city?
or
Not Currently Available for Direct Purchase