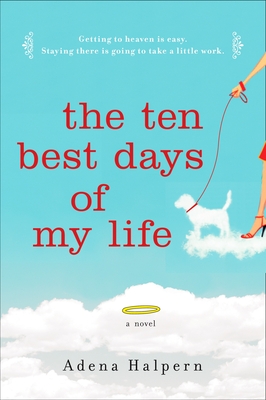 The Ten Best Days of My Life (Paperback)
Plume Books, 9780452289406, 261pp.
Publication Date: June 1, 2008
Description
Twenty-nine-year-old Alexandra Dorenfield suddenly finds herself in heaven after an unfortunate encounter with a MINI Cooper. The seventh--and highest--level of heaven to be exact. Her dog, Peaches, is with her; she is reunited with her beloved grandparents; she has the wardrobe of a movie star; and she lives in the house of her dreams next door to a handsome guy. This is heaven
But there's a catch. Alex must prove she led a fulfilling existence by writing an essay on the ten best days of her life--or she will be demoted to a lower level of heaven, where the clothes are last year's styles, the men aren't quite as handsome, and, worst of all, Peaches and her family won't be nearby. Witty and inspiring, this divine debut novel dares to ask a material girl--and the rest of us--what makes life precious.
About the Author
ADENA HALPERN wrote a popular series of essays titled "The Haute Life" for the back page of Marie Claire magazine, which reaches 3.1 million readers monthly. She is a contributing writer for Daily Variety and has written for The New York Times. Adena earned her bachelor of fine arts degree in dramatic writing from New York University and a master of fine arts degree in screenwriting from The American Film Institute.
Advertisement