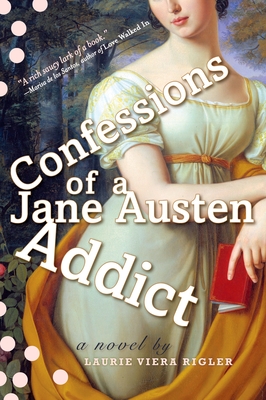 Confessions of a Jane Austen Addict (Jane Austen Addict Series #1)
Paperback

* Individual store prices may vary.
Other Editions of This Title:
Digital Audiobook (8/1/2007)
Hardcover (3/1/2009)
Hardcover (8/2/2007)
Pre-Recorded Audio Player (12/1/2009)
Library Binding, Large Print (12/1/2009)
Description
NATIONAL BESTSELLER

After nursing a broken engagement with Jane Austen novels and Absolut, Courtney Stone wakes up and finds herself not in her Los Angeles bedroom or even in her own body, but inside the bedchamber of a woman in Regency England. Who but an Austen addict like herself could concoct such a fantasy? Not only is Courtney stuck in another woman's life, she is forced to pretend she actually is that woman; and despite knowing nothing about her, she manages to fool even the most astute observer. But not even her level of Austen mania has prepared Courtney for the chamber pots and filthy coaching inns of nineteenth-century England, let alone the realities of being a single woman who must fend off suffocating chaperones, condom-less seducers, and marriages of convenience. This looking-glass Austen world is not without its charms, however. There are journeys to Bath and London, balls in the Assembly Rooms, and the enigmatic Mr. Edgeworth, who may not be a familiar species of philanderer after all. But when Courtney's borrowed brain serves up memories that are not her own, the ultimate identity crisis ensues. Will she ever get her real life back, and does she even want to?
Praise For Confessions of a Jane Austen Addict (Jane Austen Addict Series #1)…
"This frothy take on literary time travel will appeal most to readers well versed in the celebrated author's memorable characters and themes."—Booklist

"[A] delightful comic romp … Jane Austen makes a cameo appearance that is pure pleasure."—The Times Picayune

"[A] charming novel… Rigler writes beautifully… a light and deftly orchestrated visit to 1813."—Austen Blog
 
"Confessions is a novel of manners, but with a nifty twist. Laurie Viera Rigler sets the sensibilities of a 21st century L.A. woman against the manners of Regency England to watch the sparks fly. By turns funny, thoughtful, romantic and suspenseful, this engaging story is as brisk and delightful as 'taking a turn in the shrubbery' in the company of a handsome gentleman. If you've ever fantasized about being a Jane Austen heroine, this is your book."—Judith Ryan Hendricks, author of Bread Alone
 
"A rich, saucy lark of a book for all of us who have ever looked at our lives and marveled, 'How did I get here?'"—Marisa de los Santos, author of Love Walked In
 
"Courtney, flung into the past, learns the importance of living in the present even as she challenges our assumptions about identity and memory. I read this wonderful novel in a single sitting; Jane Austen fans will love it!"—Masha Hamilton, author of The Camel Book Mobile
 
"Rigler evokes the Jane Austen period masterfully, along with the perplexity of a 21st century L.A. woman, Courtney Stone, who lands unexpectedly in the body of a 19th century British woman in a world of chamber pots, chaperones, and different rules about finding true love. Courtney's navigation of the delicate 19th century social scene and her attempts to figure out how to get back to her 'real' 21st century life make for a hilarious and affecting, all-around wonderful read."—Ellen Baker, author of Keeping the House
 
"A devotee of all things Austen… discovers the reality of life in Regency England: rampant body odor, sexual and class repression and a style of medical care involving bloodletting… Despite the smells, little in [her] current lifestyle—including most of the men—can compete with the erotic charge of dancing in a candlelit ballroom."—USA Today
Plume, 9780452289727, 304pp.
Publication Date: April 29, 2008
About the Author
LAURIE VIERA RIGLER's first novel, Confessions of a Jane Austen Addict, was a national bestseller. A Life Member of the Jane Austen Society of North America, Laurie teaches writing workshops, including classes at Vroman's, Southern California's oldest and largest independent bookstore.
Would you have handled things differently if you found yourself in Courtney's/Jane's situation? Which things would you have done differently? Which things would you have done the same?
How does Courtney/Jane use Jane Austen's novels as a means of making sense of her world? Have you ever turned to your favorite books or films for inner strength, guidance, or comfort?
How do you interpret the ending of the book?
Aside from the societal restrictions on a woman's mobility, career choices, and living arrangements that Courtney/Jane faced in 1813, have parental, peer, and personal attitudes toward unmarried women fundamentally changed since Jane Austen's day?
One of the ways in which Courtney/Jane defines herself is by what she reads. To what extent do we define ourselves by what we read? To what extent do we form our opinions of others based on what they read?
Like Courtney/Jane, have you ever found yourself in a situation where your very concept of who you are was fundamentally challenged?
What are the things you think you would enjoy the most about being in Jane Austen's world? What are the things you might find particularly challenging? Is there anything in the contemporary world that you absolutely could not do without?
If it were possible for you to be someone in Jane Austen's world, who would you wish to be? Would you prefer a round-trip ticket to that world, or one-way only?
or
Not Currently Available for Direct Purchase