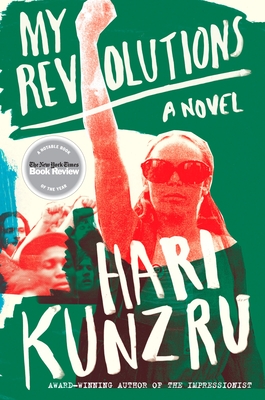 My Revolutions
A Novel
Paperback

* Individual store prices may vary.
Other Editions of This Title:
Digital Audiobook (1/23/2008)
Digital Audiobook (9/30/2015)
Compact Disc (1/24/2008)
MP3 CD (1/24/2008)
Description
"Powerful" (The New Yorker), "extraordinary" (The New York Times Book Review), and "brilliant" (Entertainment Weekly)—you won't be able to put down this novel by the award-winning bestselling author of White Tears and The Impressionist

Critics have compared him to Martin Amis, Zadie Smith, Tom Wolfe, and Don DeLillo. Granta dubbed him "one of the twenty best fiction writers under forty." In My Revolutions, Hari Kunzru delivers his best novel yet.

Chris Carver is living a lie. His wife, their teenage daughter, and everyone in their circle know him as Michael Frame, suburban dad. They have no idea that as a radical student during the sixties, he briefly became a terrorist, protesting the Vietnam War by setting off bombs. Until one day a ghost from his past turns up on his doorstep, forcing Chris on the run.
Plume, 9780452290020, 288pp.
Publication Date: December 30, 2008
About the Author
Hari Kunzru, author of White Tears and the award-winning and bestselling novel The Impressionist, was named as one of Granta's "20 Best Fiction Writers Under 40." The Impressionist was a Los Angeles Times Book Prize finalist; was shortlisted for the Guardian First Book Award, the Whitbread First Novel Award, and a British Book Award; and was one of Publishers Weekly's Best Novels of 2002. Kunzru has written for a variety of English and international publications, including The Guardian, Daily Telegraph, The London Review of Books, and Wired.
How well does Hari Kunzru evoke the political and social climate of London during the 1960s? Does it feel genuine? Did anything about his depiction surprise you? What did you find most compelling or interesting?
How much do you believe Chris' family life played a part in his convictions as a young man? What episodes or events in particular must have pushed him to reject complacency and suburban materialism? Did you see any similarities between family members and the people he surrounded himself with later on in life?
What parallels do you see between today's antiwar youth and the antiwar youth depicted in this book? Do today's protesters have the same passion and drive as the ones described in My Revolutions? Were youth in the 60s more politically and socially aware? Consider the benefits and dangers of being passionate about one's place in the world.
Why do you think Chris held fast to the belief that Anna was the girl who threw the stone at the police officers during the riot in Grosvenor Square? In what ways did he mythologize his friend and lover, and how much was he responsible for his own disappointment in her? Discuss the different parts of their lives where she may or may not have failed him – as a friend, a lover, and as a co-conspirator.
At what point did the group's transformation from a collection of mostly student protestors to a fearsome crew of radical extremists become complete? Discuss the landmark changes in the group "Thirteen," and their actions, that revealed a more driven, purposeful, and dangerous political faction. When did they start to become a real threat to the government and to the citizens of London?
Discuss Workshop Thirteen's association with the Middle Eastern terrorists. Was it inevitable? To what extent did their collaboration with the terrorists deter the group from their original goals, or did the alliance simply cement a natural change in the group's political and social convictions? Would they have arrived at the same place, politically, without the terrorist faction's aid?
After he spent the weekend at the music festival (inadvertently with Miles), was Chris' isolation from the other members of Workshop Thirteen and subsequent house arrest and interrogation justified? How much were Chris' friends responsible for his eventual betrayal? Discuss the ramifications of the interrogation and what it revealed about the quality of Chris' relationships with these people and the depth of their political convictions.
Were you surprised when Chris stole the group's money and used it to travel around the world? What surprised you more – his theft, or his betrayal of the group when he informed on them to Miles? Is his guilt justified when he reads about their deaths at the hands of the police a few months later? Did his reaction (heroin addiction) feel authentic?
Chris cites Saul has his saving his life when the American vet discovers Chris in Thailand, destitute and addicted. Why do you think Saul went to so much trouble for Chris? Had they been great friends back in London? What did Saul's action say about both men – about the kind of persons they were underneath all of the political posturing? Why do you think Saul found Chris worth saving?
When Miles admitted his role as a government agent to Chris, were you surprised? What parts of the book, in hindsight, foreshadow this revelation and allow it to make sense? Do you find Miles a morally reprehensible character, or do you find him at all sympathetic? What makes him either a "good guy" or a "bad guy"? (Or is he both?)
Did you hope that Anna was alive at the end of the novel? What would it have meant for Chris if she had been alive? In what direction might the story have gone? (i.e. Discuss why or why not Anna's death is very necessary to Chris' character development.)
Why does the novel end with Chris' phone call to Miranda, but not the actual conversation? Is the outcome of his conversation with her important? Is it predictable? What do you think is the most significant part of this action? (What does it mean for Chris emotionally, spiritually, intellectually, morally, etc.?)
or
Not Currently Available for Direct Purchase