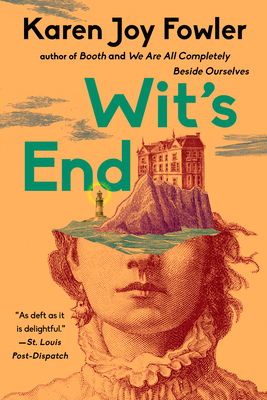 Wit's End
A Novel
Paperback

* Individual store prices may vary.
Other Editions of This Title:
Digital Audiobook (3/31/2008)
Hardcover (4/1/2008)
Compact Disc (4/1/2008)
MP3 CD (4/1/2008)
Hardcover, Large Print, Large Print (9/1/2008)
Audio Cassette (4/1/2008)
Description
This "delightful and eccentric new tale"(The Boston Globe) from the bestselling author of The Jane Austen Book Club subverts the whodunit and gives us a thoroughly modern meta-mystery with wit, warmth, and heart.

At loose ends and weary from her recent losses—the deaths of an inventive if at times irritating father and her beloved brother—Rima Lansill comes to Wit's End, the home of her legendary godmother, bestselling mystery writer Addison Early, to regroup...and in search of answers. For starters, why did Addison name one of her characters—a murderer—after Rima's father? But Addison is secretive and feisty, so consumed with protecting her famous fictional detective, Maxwell Lane, from the vagaries of the Internet rumor that she has writer's block. As one woman searches for truth, the other struggles to control the reality of her fiction.

Rima soon becomes enmeshed in Addison's household of eccentrics: a formerly alcoholic cook and her irksome son, two quirky dog-walkers, a mysterious stalker, the tiny characters that populate Addison's dollhouse crime-scene replicas, and even Maxwell Lane himself. But, wrapped up in a mystery that may or may not be of her own creation, Rima discovers to her surprise that the ultimate solution to this puzzle is the new family she has found at the house called Wit's End.

Here, Karen Joy Fowler delivers top-notch storytelling—creating characters both oddball and endearing in a voice that is utterly and memorably her own—in this clever, playful novel about finally allowing oneself to grow up-with a dash of mystery thrown in.
Praise For Wit's End: A Novel…
Praise for Wit's End

"Fowler's understated wit and storytelling skills are in full flower."—The Boston Globe

"[A] Rubik's cube of a book...this is venturesome work."—The Seattle Times

"Fowler's subtle humor glides across these pages."—The Washington Post

"[A] cyber-gothic-mystery-romance (you heard it coined here), and it's a lovely read."—The Sunday Oregonian


G.P. Putnam's Sons, 9780452290068, 336pp.
Publication Date: April 28, 2009
About the Author
Karen Joy Fowler, a PEN/Faulkner and California Book Award winner, is the author of six novels (two of them New York Times bestsellers) and four short story collections. She has been a Dublin IMPAC nominee, and was shortlisted for the Man Booker Prize in 2014. She lives in Santa Cruz, California.
In the first pages of the novel, Rima recalls having once read that "when someone important to you dies, they come back in a dream to say good-bye"—but that she has yet to hear from any of her lost family members. How does this sense of unresolved loss motivate her actions throughout the story? Is Oliver's "guidance" to Rima as she unravels her father's past a form of the "good-bye" she has been waiting for?
Addison says that novels will be an unreliable source of information for future historians because "No one in novels watches TV." Wit's End, however, includes numerous references to television and television watching. How do these references add to the novel's sense of realism? What do the characters' preferences in movies and television shows reveal about them?
Discuss the author's depiction of Santa Cruz. How does she evoke the unique atmosphere and character of this city? How important is this setting to the story? Could you imagine it taking place in another locale?
Rima returns many times to a question her father once asked her: "Would you want to be remembered as you were or as better than you were?" Consider the overall themes of the novel in the context of this question. How do you think each of the characters would answer it?
Rima's feelings for Martin remain in flux throughout the book: "She liked him and then she didn't like him and then she liked him." Ultimately, she realizes that her grief over Oliver's death—and Martin's similarities to him—is the source of her ambivalence. How do you think their relationship will develop? Does she truly think of Martin as her "little brother," or might they eventually develop a romantic relationship?
Consider the character of Pamela Price. Though she goes to some lengths to demonstrate that blackmail is not her motivation, her infatuation with Addison's past clearly borders on obsession. Is she dangerously deranged, or simply an overly zealous fan? If Addison had encountered her at Holy City instead of Rima, do you think the scene could have turned violent?
Wit's End is set during a very specific moment in recent history: the 2006 mid-term elections that saw Democrats take the majority in the United States Congress. Why do you think the author chose to highlight these events in the novel? How do the characters' discussions of political events inform our understanding of them?
Discuss the author's use of humor. Why did the author choose to employ wit as much as pathos in telling this story? Is the novel's title ironic?
or
Not Currently Available for Direct Purchase