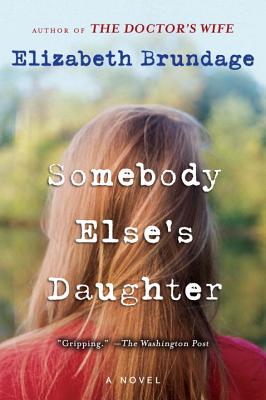 Somebody Else's Daughter
Paperback

* Individual store prices may vary.
Other Editions of This Title:
Hardcover (7/3/2008)
Compact Disc (7/3/2008)
Description
A taut, complex psychological thriller from the author of "The Doctor's Wife"
Like "The Doctor's Wife" - which "The Boston Globe" called "a compelling read"-"Somebody Else's Daughter" is a literary page-turner peopled with fascinating and disturbing characters. In the idyllic Berkshires, at the prestigious Pioneer School, there are dark secrets that threaten to come to light. Willa Golding, a student, has been brought up by her adoptive parents in elegant prosperity, but they have fled a mysterious and shameful past. Her biological father, a failing writer and former drug addict, needs to see the daughter he abandoned, and so he gains a teaching position at the school. A feminist sculptor initiates a reckless affair, the Pioneer students live in a world to which adults turn a blind eye, and the headmaster's wife is busy keeping her husband's current indiscretions well hidden. Building to a breathtaking collision between two fathers-biological and adoptive, past and present- "Somebody Else's Daughter" is both a suspenseful thriller and a probing study of richly conflicted characters in emotional turmoil.
Praise For Somebody Else's Daughter…
"[A] deft balancing act of taut plot and richly drawn characters. . .Brundage is a storyteller supreme."
-Wally Lamb

"Riveting...very moving and completely involving. . . Brundage is a brilliant novelist."
-Richard Bausch

"Brundage has a penchant for turning topical subjects into gripping novels...Sex, drugs, violence and murder are all in the Brundage mix."
-The Washington Post

"[A] well-turned thriller. . . Brundage writes with startling clarity."
-St. Louis Post-Dispatch

"A taut tale of suspense rounded out with sharp observations on parenting, adoption and the fraught business of keeping up appearances."
-New York Observer
Plume Books, 9780452295377, 341pp.
Publication Date: April 1, 2009
About the Author
Elizabeth Brundage is a graduate of the Iowa Writers Workshop, where she earned an MFA in fiction and a James Michener award. Her short fiction has been published in the Greensboro Review, Witness Magazine, and New Letters, and she contributed to the anthology Thicker Than Blood: I ve Always Meant to Tell You, Letters to Our Mothers."
Many of the book's characters mirror each other—Jack vs. Joe as unfaithful husbands; Joe and Claire, who both use sex as a commodity; Pearl and Willa, the orphaned daughters; Maggie and Candace, the wronged wives. Why does the author choose to use this device? What do we learn about the characters by comparing and contrasting their similarities and differences?
Joe defends his work in pornography saying he is simply making a living. How do you feel about pornography? Is his position defensible?
Why is Maggie so cowed by Jack? Why does she continue to help him cover up his crimes? Is she a victim of circumstance or of her own actions?
A feminist theme runs throughout the book. How do you feel about the author's depictions of feminism? Do today's young women need or care about equality of the sexes? Is feminism still relevant in today's society?
The book's title could refer to any or all of the book's female characters. Why do you think the author chose this title?
During Candace's meeting with Nate, she refers to Willa's biological parents as indigents. He responds, "We're told certain things, information that pushes us into tidy categories, but they're just words. We're rarely told the whole story and the story is always changing." Considering Candace's checkered past, is it fair of her to stereotype him?
Claire is drawn to Nate and Joe, two very different men, who are, respectively, Willa's biological and adoptive fathers. Why did the author choose to connect the men via both Claire and Willa?
Jack is clearly the story's villain, yet the author attempts to explain his actions by revealing details about his traumatic childhood. Do these passages make you feel sympathetic toward him?
How do you feel about the book's conclusion?
or
Not Currently Available for Direct Purchase