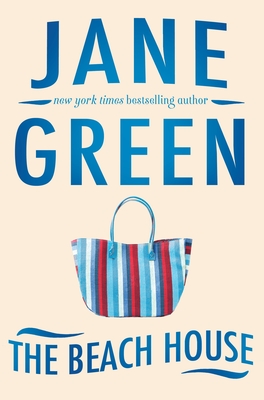 The Beach House
Paperback

* Individual store prices may vary.
Other Editions of This Title:
Digital Audiobook (6/16/2008)
Digital Audiobook (6/16/2008)
Paperback, Large Print (5/26/2009)
Description
From the author of Falling and Sister Stardust comes the New York Times bestseller about finding your place in the place you call home.

Ever since her life took an unexpected turn, Nan Powell has enjoyed living alone on the sun-drenched shores of Nantucket. At sixty-five, she's just as likely to be found at Windermere, her beach front home, as she is skinny dipping in her neighbor's pool.  But when the money she thought would last forever starts to dwindle, Nan decides to do something drastic to keep hold of her free-spirited life: open up Windermere to strangers. 

After placing an ad for summer rentals touting water views, direct access to the beach, and a sexagenarian roommate, Nan's once quiet house is soon full of noise, laughter, and the occasional bout of tears. Between her eclectic new tenants and the sudden return of her son, Nan gets a taste of what life is like when you have someone to care for besides yourself. But just as she starts to happily settle in to her new existence, the arrival of a visitor from her past threatens to turn everyone's lives upside down...
Praise For The Beach House…
"Green gives you a clear sense of Nantucket's weathered splendor and offers up a refreshing summertime getaway…best read on a deck chair somewhere."—Chicago Sun-Times

"A sweetly memorable summer story, capturing the relaxing, renewing quality of life at the shore."—New Orleans Times-Picayune

"Breezy…deeply appealing."—Connecticut Post

"Green's best novel in years, a compelling, unputdownable read."—Booklist


More Praise for the Novels of Jane Green

"Gripping and powerful."—Emily Giffin, #1 New York Times bestselling author

"The perfect summer read."―Kristin Hannah, #1 New York Times bestselling author

"A warm bath of a novel that draws you in…Green's sympathetic portrayals…resonate."—USA Today

"Warm, witty, sharp and insightful. Jane Green writes with such honesty and zing."―Sophie Kinsella, New York Times bestselling author

"Her compelling tale reflects an understanding of contemporary women that's acute and compassionate, served up with style."―People

"The kind of novel you'll gobble up at a single sitting."—Cosmopolitan

"A smart, complex, character-driven read."—The Washington Post

"Green's novels consistently deliver believable, accessible, heartfelt, often heartwarming stories about real people, problems, and feelings."—Redbook
Berkley, 9780452295384, 368pp.
Publication Date: May 26, 2009
About the Author
A former journalist in the U.K. and a graduate of the International Culinary Center in New York, Jane Green is a New York Times bestselling author whose novels have been published in more than twenty-five languages. She has more than ten million books in print worldwide.
Nan finds a certain freedom in her old age that most women don't even have in their youth. In what ways can old age be liberating for a woman? Do you know anyone like Nan? Do you hope to be like Nan?
For Nan, family extends beyond blood relations, from Sarah to the summer guests. Who in your own life do you recognize as family even if you're not related? How and why do these relationships develop? Which relationships are stronger—those we have by birth or those we make during the course of our lives?
Choose the two characters you found the most compelling and map out their respective journeys through the course of the novel. What were the turning points in their stories? Why did you find these characters the most affecting?
Daff is conflicted by her love for her daughter and her enjoyment in their spending time apart from each other, and the same feeling, although not as delicately articulated, is clearly true for Jess as well. What is your opinion of Daff as a mother? Have you ever wanted to get away from your own family?
Identify each character's major flaw as well as his or her most redeeming quality. What examples from the book best illustrate these traits?
Discuss the struggle each character experiences with fidelity; remember that fidelity is not only a romantic concern. What does it mean to be faithful? What are the differences (and, sometimes, conflicts) between being faithful to one's self and to another person?
Both Daff and Daniel are returning to the singles scene after being married for many years, although they do so for different reasons. Contrast Daniel's and Daff's first attempts at romance. Does either of their experiences connect with your own?
Location can have great emotional significance, bringing us back to a memory or helping us become someone new. What does Windermere represent for each of the characters? Is there a place in the world that is meaningful for you in the same way?
Imagine you are writing another chapter of The Beach House that takes place five years after the novel ends. What would you include? What more would you like to know about these characters?
If you could ask Jane Green one question, what would it be?