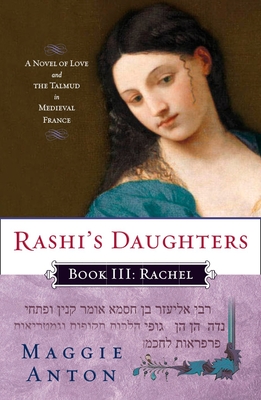 Rashi's Daughters, Book III
Rachel: A Novel of Love and the Talmud in Medieval France (Rashi's Daughters Series)
Paperback

* Individual store prices may vary.
Description
The dramatic final book in the epic historical trilogy about the lives and loves of the three daughters of the great Talmud scholar Rashi

Rachel is the youngest and most beautiful daughter of medieval Jewish scholar Salomon ben Isaac, or "Rashi." Her father's favorite and adored by her new husband, Eliezer, Rachel's life looks to be one of peaceful scholarship, laughter, and love. But events beyond her control will soon threaten everything she holds dear. Marauders of the First Crusade massacre nearly the entire Jewish population of Germany, and her beloved father suffers a stroke. Eliezer wants their family to move to the safety of Spain, but Rachel is determined to stay in France and help her family save the Troyes yeshiva, the only remnant of the great centers of Jewish learning in Europe.

As she did so effectively in Joheved and Miriam, Maggie Anton vividly brings to life the world of eleventh-century France and a remarkable Jewish woman of dignity, passion, and strength.
Praise For Rashi's Daughters, Book III: Rachel: A Novel of Love and the Talmud in Medieval France (Rashi's Daughters Series)…
"Anton delivers a tour de force . . . [Readers] will fly through the pages and come away wishing for more."—Library Journal (starred review)

"A compelling combination of drama, suspense, and romance."—Lilith magazine
Plume, 9780452295681, 448pp.
Publication Date: August 4, 2009
About the Author
Maggie Anton was born Margaret Antonofsky in Los Angeles, California. Raised in a secular, socialist household, she reached adulthood with little knowledge of her Jewish religion. All that changed when David Parkhurst, who was to become her husband, entered her life, and they both discovered Judaism as adults. In the early 1990's, Anton began studying Talmud in a class for women taught by Rachel Adler, now a professor at Hebrew Union College in Los Angeles. She became intrigued with the idea that Rashi, one of the greatest Jewish scholars ever, had no sons, only three daughters. Slowly but surely, she began to research the family and the time in which they lived. Legend has it that Rashi's daughters were learned in a time when women were traditionally forbidden to study the sacred texts. These forgotten women seemed ripe for rediscovery, and the idea of a book about them was born.
or
Not Currently Available for Direct Purchase