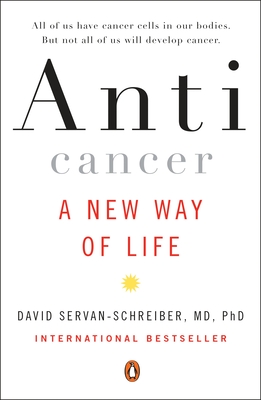 Anticancer
A New Way of Life
Paperback

* Individual store prices may vary.
Other Editions of This Title:
Digital Audiobook (3/11/2019)
Paperback, Spanish (12/1/2009)
Description
The revolutionary, New York Times bestselling guide to the powerful lifestyle changes that fight and prevent cancer—an integrative approach based on the latest scientific research
 
"A common-sense blueprint for healthy living." —Chicago Tribune
 
"Resonating with cancer support communities and recommended nationwide." —Los Angeles Times
 
"Life affirming . . . filled with practical advice." —The Seattle Times
 
David Servan-Schreiber was a rising neuroscientist with his own brain imaging laboratory when, in the middle of an equipment test, he discovered a tumor the size of a walnut in his own brain. Forced to confront what medicine knows about cancer, and all that we still do not know, Servan-Schreiber marshaled his will to live and set out to understand the complex inner workings of the body's natural cancer-fighting capabilities. He soon found himself on a decades-long journey from disease and relapse into scientific exploration and, finally, a new view of health.
 
Anticancer is at once the moving story of one doctor's inner and outer search for wellness and a radical exposition of the roles that lifestyle, environment, and trauma play in our health. Drawing on the latest research in integrative medicine that blends conventional and alternative approaches, Servan-Schreiber concisely explains what makes cancer cells thrive, what inhibits them, and how we can empower ourselves to prevent their growth. His advice details how to develop a science-based anticancer diet (and the small changes that can make a big difference); how to reap the benefits of exercise, yoga, and meditation; which toxic, unsafe products to replace in your home; and how to stave off the effects of helplessness and unhealed wounds to regain balance.
 
Anticancer's synthesis of science and personal experience marks a transformation in the way we understand and confront cancer. A long-running bestseller that has changed the lives of millions around the world, Anticancer remains a pioneering and peerless resource, an inspirational and revolutionary guide to "a new way of life."
Praise For Anticancer: A New Way of Life…
"A common-sense blueprint for healthy living."
—Chicago Tribune
 
"Fills an important gap in our knowledge of how patients can contribute to their own care by supplementing conventional medical treatment. I recommend this book to anyone interested in preventive medicine and integrated, complementary approaches to patient care."
—John Mendelsohn, MD, president, MD Anderson Cancer Center, University of Texas
 
"Resonating with cancer support communities . . . and recommended nationwide on internet message boards."
—Los Angeles Times
 
"Life affirming . . . filled with practical advice that enables cancer patients to overcome their initial feelings of helplessness and to adopt a proactive attitude of survivorship."
—The Seattle Times
 
"Servan-Schreiber's writing offers much more than science. It is full of passion . . . and compassion for his patients dealing with the emotional aspects of serious or terminal illness."
—Pittsburgh Post-Gazette
 
"Enormously compelling evidence and arguments for participating in our own health by supporting our deep natural capacity for healing. Everybody should read this book and enact its simple but potentially lifesaving recommendations."
—Jon Kabat-Zinn, PhD, author of Wherever You Go, There You Are
 
"Anticancer's message is optimistic, the advice scientifically sound, and the prose highly readable."
—Fort Worth Star-Telegram
 
"Presents a compelling combination of one doctor's story of his battle with cancer along with his research into how to fight the disease . . . Readable and moving."
—Body & Soul Magazine
Penguin Books, 9780452295728, 288pp.
Publication Date: October 3, 2017
About the Author
David Servan-Schreiber, MD, PhD, was a clinical professor of psychiatry at the University of Pittsburgh School of Medicine and cofounder of the Center for Integrative Medicine. He codirected an NIH laboratory for the study of cognitive neuroscience and published more than ninety articles in scientific journals. His pioneering book Anticancer: A New Way of Life became an international bestseller and was translated into more than forty languages. He is also the author of The Instinct to Heal and Not the Last Goodbye. Servan-Schreiber died in July 2011, leaving us a profound legacy of new understandings and pioneering work in disease prevention.