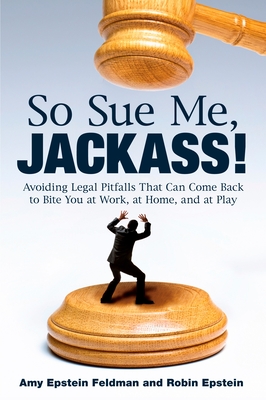 So Sue Me, Jackass! (Paperback)
Avoiding Legal Pitfalls that Can Come Back to Bite You at Work, at Home, and at Play
Plume, 9780452295742, 320pp.
Publication Date: September 29, 2009
* Individual store prices may vary.
Description
Read Amy Epstein Feldman and Robin Epstein's posts on the Penguin Blog

The next best thing to having a lawyer in the family.

Can you win monetary damages for bad sex? Can you get fired for being too fat? Can you sign your mother-in-law into a nursing home against her will?

For anyone who's ever had a legal question that seemed too odd or embarrassing to seek counsel, So Sue Me, Jackass! is a surprising and entertaining collection of factual and funny Q&As that combines engaging wit and sensible legal advice. Attorney Amy Epstein Feldman and her sister, humor writer Robin Epstein address a wide range of legal issues encountered in daily life, including jobs, relationships, home, family, pets (yes, pets), privacy, and death—and they relate outrageous anecdotes of laugh-out­loud legal fiascos. So Sue Me, Jackass! may not keep you out of litigation—but it will keep you in stitches.
About the Author
Amy Epstein Feldman, Esq., is a nationally syndicated legal correspondent on radio and television. She is general counsel of The Judge Group, Inc., a $200 million international business solutions provider.
Robin Epstein is an author, stand-up comic and former sitcom writer. A contributor to NPR's This American Life, her writing has appeared in The New York Times, Marie Claire, Real Simple and Glamour, among others.
or
Not Currently Available for Direct Purchase