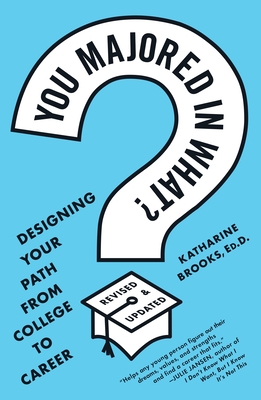 You Majored in What?
Designing Your Path from College to Career
Paperback

* Individual store prices may vary.
Other Editions of This Title:
MP3 CD (6/20/2017)
Compact Disc (6/20/2017)
Description
Fully revised and updated in 2017, the revolutionary career guide for a new generation of job-seekers, from one of the U.S.'s top career counselors

"So what are you going to do with your major?"
 
It's an innocent question that can haunt students from high school to graduate school and beyond.
 
Relax. Your major is just the starting point for designing a meaningful future. In this indispensable guide, Dr. Katharine Brooks shows you a creative, fun, and intelligent way to figure out what you want to do and how to get it—no matter what you studied in college. You will learn to map your experiences for insights into your strengths and passions, design possible lives, and create goals destined to take you wherever you want to go. Using techniques and ideas that have guided thousands of college students to successful careers, Dr. Brooks will teach you to outsmart and outperform your competition, with more Wisdom Builders and an easily applied career development process.
 
No matter what career you aspire to, You Majored in What? offers a practical, creative, and successful approach to finding your path to career fulfillment.
Praise For You Majored in What?: Designing Your Path from College to Career…
"Brooks… provides those tools in the form of a series of quizzes and exercises designed to crystallize students' talents and inclinations. She then explains how to use the results to choose a direction, stand out from the crowd and wow job interviews."—TIME 

"Combines... What Color Is Your Parachute? with genuinely practical advice."—New York Times 

"An appealing blend of poetry and pragmatism. [Brooks] talks about finding the narrative of your life and harnessing the value of happenstance, but she also coaches readers on the nuts-and-bolts of resume writing and interviewing. You Majored in What? would make a wonderful gift to both high school and college grads."—Austin American-Statesman 

"Supportive, ingenious, and fun, Brooks's innovative career coaching can turn beloved interests into satisfying vocations."—Boston Globe 

"Dr. Brooks, a longtime college career advisor, provides students with an optimistic, encouraging outlook, and shows them that their strengths and skills are more important than choice of major... a positive reinforcement to the students who pursue their interest in liberal arts, and parlay the same interests into successful careers."—Examiner.com 

"In times like these it's crucial to look at entering the workplace from a whole new perspective and You Majored in What? accomplishes this! Who cares what your college major is? What is more important are your dreams, values, and strengths and this book helps any young person figure these things out and find a career that fits. Buy it now! It's great!"—Julie Jansen, author of I Don't Know What I Want, but I Know It's Not This! 

"Brooks addresses the key challenges faced by many college students as they attempt to bridge the chasm between sixteen years of education and the largely unknown world of work. You Majored in What? is truly a great guide for the soon-to-be-launched student. At a time when all job-hunters are going to need to raise their level of job-getting skills, Kate Brooks has provided the liberal arts grad with exactly what they need to compete and succeed."—Jaye R. Roseborough, former Executive Director, Career Services, Middlebury College 

"A lifeline for parents and students who value a liberal arts education. Katharine Brooks offers smart and accessible insights that turn the apparent chaos of a liberal arts major into a 'wandering map' to illuminate many routes toward a fulfilling career and life."—James H. Madison, Professor Emeritus of History and former Director, Liberal Arts and Management Program, Indiana University 

"Students of all ages will gain valuable insight into their own interests, goals, and career aspirations from this book, even if all they do is skim the first 2 chapters. You Majored in What? helps young people find the connections between their interests and the inexhaustible career options available to them. This book should be sent to every student with their letter of admission or given to every first-year student at the start of orientation. I hope to share it with my graduate students."—Paul Binkley, Director, Student Career Development, Johns Hopkins University

"The wisdom contained in this book could not have become available at a better time for the millions of Gen Y college students and recent graduates who are simultaneously struggling with crushing levels of student debt and the desire to find a career where they can do meaningful work that is a benefit to society."—Steven Rothberg, President and Founder, CollegeRecruiter.com 

"An amazing, refreshing new perspective on an ancient question that does not leave sage advice behind! This book takes tried-and-true concepts and adds meaning and organization. One can't help but think, engage and be encouraged by Kate's valuable wisdom! Useful as a course text, a journal, a job search manual, or what it reads like: a personal career companion, mentor or friend. Born of chaos theory, this book is ready to deliver into the hands of the yearning who are eager to absorb it. Loaded with images, constructive strategies, and meaningful advice, You Majored in What? is intellectual, but practical, and readers will deepen their appreciation of their majors. With its many examples, exercises, reflections and real life stories, this book has something for every reader to grab a hold of to achieve not only career success, but life and work success."—Denise Dwight Smith, Assistant Vice President, Alumni and Career Services, University of Richmond

"A wonderful guide and workbook not only for the undergraduate student but also for the career practitioner! Whether a student, mentor, or coach, unquestionably you will be inspired and empowered by the possibilities that will result from the Wise Wandering and mapping activities."—Meg Flournoy, Sector Director, Duke MBA Career Management Center 

"Filled with interactive exercises and is written in an engaging and practical way. This book will be a helpful resource for students as they consider their post-college plans."—Deanne H. Maxwell, Associate Director, Student and Career Development, Cornell University 

"Will speak to the person in career transition or the college student simply overwhelmed by the options. The tone is light and the exercises are manageable, designed to release your hidden dreams and strengths. This is a fresh and much needed addition to the field of career development."—Beverly T. Lorig, Assistant Director, Career Services, University of Virginia 

"Offers plenty of answers to take willing readers on a journey of self-discovery from chaos to satisfying career choices."—Skip Sturman, Emeritus Director, Career Services, Dartmouth
Plume, 9780452296008, 352pp.
Publication Date: March 30, 2010
About the Author
DR. KATHARINE BROOKS is the Evans Family Executive Director of the Career Center at Vanderbilt University. A nationally recognized career coach, trainer, professor, and counselor for more than thirty years, she is the creator of the National Association of Colleges and Employers Career Coaching Intensives. She has a doctorate in educational psychology.