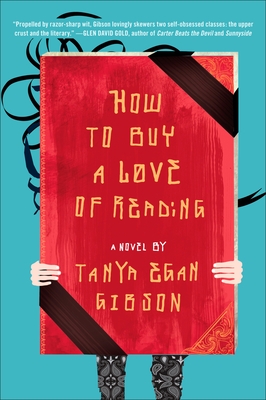 How to Buy a Love of Reading (Paperback)
A Novel
Plume, 9780452296091, 400pp.
Publication Date: July 27, 2010
* Individual store prices may vary.
Description
Read Tanya Egan Gibson's posts on the Penguin Blog.

A playful, witty, and remarkably accomplished debut novel about how reading can save your life

Asked to name her favorite book, sixteen-year-old Carley Wells answers, "Never met one I liked." Her parents are horrified and decide to commission a book to be written just for her. They will be the Medicis of Long Island and buy their daughter The Love of Reading. At first, Carley's sole interest in the project is to distract Hunter, the young bibliophile she adores. But as Hunter's behavior becomes increasingly erratic, Carley begins to understand the importance of stories-and how they are powerful enough to destroy a person. Or save her.

Tanya Egan Gibson's debut novel is an irresistible work of metafiction that dazzlingly embeds a book within the book, and boasts an unforgettably fresh narrator whose journey towards embracing literature will make you fall in love with reading all over again.
About the Author
Tanya Egan Gibson lives in Marin County, California. How to Buy a Love of Reading is her first novel.
Praise For How to Buy a Love of Reading: A Novel…
Brimming with literary allusions, commentary on the rich and famous, and the necessary ingredients for a successful novel, Gibson's ingenious debut succeeds on many levels."
-Booklist

"Gibson creates a literary work that is fresh, complex and compelling.... All the themes in the novel are richly drawn and universal - love, "saving" someone, the question of what reality really is, loneliness, betrayal. The conflicting themes create a palpable sense of tension as the end of the book approaches. Which will prevail - love or loneliness? Salvation or betrayal? The best thing a book can do is to make its reader think. Just as Carly is transformed as she works on "her" novel, Gibson's How To Buy a Love of Reading gives the reader equal opportunity to embark on a worthy, entertaining mental stretch."
-Fort Worth Star-Telegram

"From the opening sentence of this strongly sardonic satire, Gibson's debut, it is clear that nothing is sacred. Whether examining trendy charity functions or the muted morals of the so-very-rich, her acerbic, acidic book is right on the money. The major surprise is that the novel also has a heart, and Carley leaps off the page as the most real character....Readers fond of Claire Messaud and Marisha Pessl might want to try Gibson's bold outing."
-Library Journal

"Ladies and gentlemen, please welcome to the stage Tanya Egan Gibson, a fresh and funny new voice in the world of fiction."
-Mark Childress, author of Crazy in Alabama and One Mississippi

"What a page-turner! Propelled by razor-sharp wit, Gibson lovingly skewers two self- obsessed classes: the upper crust and the literary. I'd say you can buy a love of reading yourself, very easily, right now."
- Glen David Gold, author of Carter Beats the Devil and Sunnyside

"At last, a novel for those of us who love both Buffy the Vampire Slayer and F. Scott Fitzgerald. Emotions that rise to the level of myth, a heroine who faces a daunting challenge, a passion that surpasses self-interest or reason-they're all here, and so are ironic commentary, gorgeous prose, and an inspiring argument for the necessity of stories. Tanya Egan Gibson's remarkable debut proves her case: that stories have power, and that we cannot do without them in our ongoing struggle to excavate the secrets of the human heart."
-Leah Stewart, author of The Myth of You and Me

"How to Buy a Love of Reading is a wholly original and wonderful first novel about growing up in the strangest of worlds, and the incredible power of storytelling to make that world livable. In her lovely debut, Tanya Egan Gibson blends humor and sentiment in the most surprising of ways. The story she weaves is a joy from start to finish."
-Laura Dave, author of The Divorce Party and London is the Best City in America

"Carley Wells, the protagonist of Tanya Egan Gibson's How to Buy a Love of Reading, is at once a sympathetic antihero and a much appreciated antidote to the cultural pretensions of Long Island's aristocracy. This is satire with a heart."
-Will Allison, author of What You Have Left
At the beginning of the novel, we are shown a handout Carley filled out for her English teacher (p. 16). Later, we're also shown a "Manifesto" she writes for Bree (p. 121). How did these documents color your initial impressions of her? Did your interpretation or understanding of her responses change once you read the entire book?
Early in the novel, Carley "never knows the right thing to say" and claims not to understand situations until long after they have passed. How does she grow in this respect during the course of the novel? At which moments do we witness her seizing the moment instead of looking back over her shoulder at it?
Every section of this book begins by giving you an invitation to a party. Why might the author have included these invitations?
According to Bree's e-mail to Carley (p. 139), what is "meta-fiction? Is How To Buy a Love of Reading a meta-novel? What is How to Buy a Love of Reading's attitude about the notion of "meta"? Does it, in the end, undermine meta-fiction or validate it?
For a book that is supposed to be about the love of books, this novel pays a considerable amount of attention to fictional television shows, including The Arion Annals, Bouncy House, The Frog Princess, and Caveman Land. How do aspects of these shows resonate with the action in How To Buy a Love of Reading? What does Glory of The Arion Annals, have in common with Carley and/or Bree? What might Gibson be implying about storytelling?
Why do you think Carley finds herself using Bree's "devices" (pages 186-193) when she finds Hunter passed out in his room? How do they help her cope? Why does she ultimately reject them after having "tried them on" this way?
How do How To Buy a Love of Reading and the novel Bree writes for Carley, Dark Ages, echo and/or undercut each other? Are Jules and Buck merely doubles for Carley and Hunter, or is there something different going on within their narrative?
References to The Great Gatsby appear throughout the book. What is How To Buy a Love of Reading's attitude towards that classic?
From the Long Island Sound to ponds, fountains, pools, and the ocean, water is everywhere in this novel. How does it function as a symbol? How do Carley's and Hunter's relationships to water help define them and their abilities to survive Fox Glen without "drowning?"
During a criticism of Bree's work on Dark Ages, Carley asks, "Aren't people the point of stories?" When Bree corrects her by saying, "Characters," Carley responds, "Same difference" (pp. 288-289). What does Carley mean by this?
Bree calls backstory "lazy" (p. 234). Carley's English teacher says it's "messy, clotty stuff." So why does How to Buy a Love of Reading include so many sections of it? And why does Carley think it is important?
What do you think Carley means, in the epilogue, when she says, "…[T]he tanks are lit from within to minimize reflection. That's my kind of story. That's the kind of story this is"? (p. 385)
Why might the novel be organized into parts named for literary terms—Setting, Plot, Devices, Backstory, Theme, Time and Tense, and Point of View? In what ways might this novel be teaching the reader, throughout the narrative, how to read it?
Carley's English teacher and his literary terminology lessons are characterized as ridiculous. Why would the author do this?
or
Not Currently Available for Direct Purchase