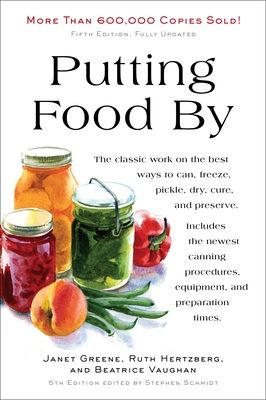 Putting Food by (Paperback)
Plume Books, 9780452296220, 454pp.
Publication Date: May 25, 2010
Description
The bible of home canning, preserving, freezing, and drying. The New York Times
For decades, Putting Food By has been the one-stop source for everything the home cook needs to know about preserving foods from fruits and vegetables to meat and seafood. Now, this classic is fully up-to-date with the twenty-first-century kitchen. Whether you re preserving to save money or to capture the taste of local, seasonal food at its peak, Putting Food By shares step-by-step directions to help you do it safely and deliciously.
This fifth edition of Putting Food By includes:
. Instructions for canning, freezing, salting, smoking, drying, and root cellaring
. Mouthwatering recipes for pickles, relishes, jams, and jellies
. Information on preserving with less sugar and salt
. Tips on equipment, ingredients, health and safety issues, and resources
About the Author
JANET GREENEwas the Editor-in-Chief of The Stephen Green Press. RUTH HERTZBERGtaught Home Economics in New England. BEATRICE VAUGHAN wrote nine cookbooks."
Advertisement