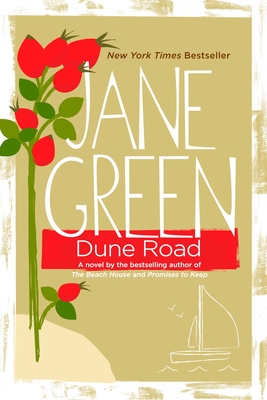 Dune Road
A Novel
Paperback

* Individual store prices may vary.
Other Editions of This Title:
Digital Audiobook (6/15/2009)
Hardcover (6/16/2009)
Description
From the New York Times bestselling author of Falling and Sister Stardust comes a timely novel about the challenges of starting over.

In the Gold Coast town of Highfield, Connecticut, recent divorcée Kit Hargrove has joyfully exchanged the requisite diamond studs and Persian rugs of a "Wall Street Widow" for her true dream home: a clapboard Cape with sea green shutters and sprawling impatiens. Her kids are content, her ex cooperative, and each morning she wakes up to her dream job assisting novelist Robert McClore.

But when a figure from the past arrives just as the shifting financial market turns Highfield upside down, Kit is forced to realize that her blissfully constructed life and blossoming new romance aren't as foolproof as she thought...
Praise For Dune Road: A Novel…
Praise for Dune Road

"Inviting...has all the right elements for a sun-baked afternoon of reading: sandy locales, hints of sex and scandal, and lots of strong female characters."—Publishers Weekly

"Masterful…astute…A terrific summer beach book."—Connecticut Post

More Praise for the Novels of Jane Green

"Gripping and powerful."—Emily Giffin, #1 New York Times bestselling author

"The perfect summer read."―Kristin Hannah, #1 New York Times bestselling author

"A warm bath of a novel that draws you in...Green's sympathetic portrayals...resonate."—USA Today

"Warm, witty, sharp and insightful. Jane Green writes with such honesty and zing."―Sophie Kinsella, New York Times bestselling author

"Her compelling tale reflects an understanding of contemporary women that's acute and compassionate, served up with style."―People

"The kind of novel you'll gobble up at a single sitting."—Cosmopolitan

"A smart, complex, character-driven read."—The Washington Post

"Green's novels consistently deliver believable, accessible, heartfelt, often heartwarming stories about real people, problems, and feelings."—Redbook
Berkley, 9780452296251, 352pp.
Publication Date: May 25, 2010
About the Author
A former journalist in the UK and a graduate of the International Culinary Center in New York, Jane Green has written many novels (including Jemima J, The Beach House, Falling, and The Sunshine Sisters), most of which have been New York Times bestsellers, and one cookbook, Good Taste. Her novels are published in more than twenty-five languages, and she has over ten million books in print worldwide. She lives in Westport, Connecticut, with her husband and a small army of children and animals.
The home is a powerful symbol throughout this book. To what extent does each characters' idea of "home" affect her actions? How does it reflect who they are? How does your idea of home differ from those in the book?
Dune Road offers a wide range of characters at different crucial moments in their lives. With which characters do you most identify? Which characters do you find most provocative?
What significance does the idea of feminine identity have in this book? In what ways does the book stray from female archetypes we see in other literature and media? In what ways does it agree with them?
The community of Highfield seems as much a character as any of the protagonists in the book. What role does social status play in Dune Road? How much pressure does it put on each character, if at all, and how does it drive their actions?
Annabel says, during a discussion with Kit, that "we are either born addicts, or not." Do you agree with this sentiment? What significance does fate have in the lives of Dune Road's characters?
Kit and Edie have a conversation regarding the nature of marriage in which Kit bemoans the imperfections of her marriage to Adam while Edie argues that "a lot of the time that's all marriage is." With whom do you agree? Do you consider, as Kit often worries throughout the book, her reconciliation with Adam as a "step backward?"
How does Kit's lonely childhood reflect in her adult life? How does Tracy's experience with domestic abuse inform who she is? What role does these characters' upbringing have in their lives?
Charlie and Keith suffer great loss at the hands of the economic recession. How do you feel about Charlie's anger toward Keith? Do you see Keith as a victim or as the guilty party? How important is it to you to share financial responsibility in a relationship?
Two of the central themes of this book are loss and rebirth. How do you feel each of the characters handles loss? How important is the idea of reinvention to you?
What are the moral implications of Adam and Annabel's affair? Do you feel they were in the right to pursue each other or did they cross the line?
One of the most surprising things about Tracy's reconnection with Jed is that she sought him out on the Internet, despite a history of abuse. What does this say about the complex relationship between the abused and the abuser? What's your opinion of Tracy's actions throughout the book and how much control do you believe she had over her choices? Were they choices at all?
How have these characters changed during the course of the book? What surprised you about the ending? What future do you see for each of the characters?
or
Not Currently Available for Direct Purchase