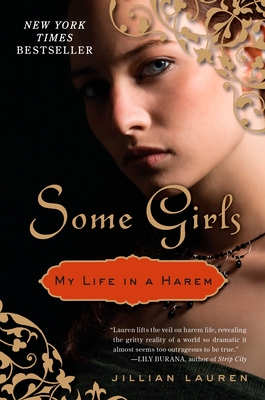 Some Girls: My Life in a Harem (Paperback)
My Life in a Harem
Plume Books, 9780452296312, 368pp.
Publication Date: April 27, 2010
Description
A jaw-dropping story of how a girl from the suburbs ends up in a prince's harem, and emerges from the secret Xanadu both richer and wiser
At eighteen, Jillian Lauren was an NYU theater school dropout with a tip about an upcoming audition. The "casting director" told her that a rich businessman in Singapore would pay pretty American girls $20,000 if they stayed for two weeks to spice up his parties. Soon, Jillian was on a plane to Borneo, where she would spend the next eighteen months in the harem of Prince Jefri Bolkiah, youngest brother of the Sultan of Brunei, leaving behind her gritty East Village apartment for a palace with rugs laced with gold and trading her band of artist friends for a coterie of backstabbing beauties.
More than just a sexy read set in an exotic land, Some Girls is also the story of how a rebellious teen found herself-and the courage to meet her birth mother and eventually adopt a baby boy.
About the Author
Jillian Lauren is a writer, storyteller, mom, and rock-wife. She is the New York Times bestselling author of the memoirsEverything You Ever Wanted andSome Girls: My Life in a Harem, and the novelPretty.Some Girlshas been translated into 18 different languages and is currently being adapted for TV. She has written forThe New York Times, The Paris Review, Vanity Fair, Los Angeles Magazine, Elle, The Daily BeastandSalon, among others. She lives with her husband, musician Scott Shriner, and their two sons in Los Angeles.www.jillianlauren.com"
Praise For Some Girls: My Life in a Harem…
"Some Girls is a heart-stoppingly thrilling story told by a punk rock Scheherazade. Lauren writes with such lyrical ease - the book is almost musical, an enduring melody of what it is to be a woman."
-Margaret Cho

"Lauren... is a deft storyteller, imparting equal parts poignant reflection and wisdom into her enlightening book. A gritty, melancholy memoir leavened by the author's amiable, engrossing narrative tenor."
-Kirkus Reviews

"Some Girls would have been riveting even if Jillian Lauren had merely illuminated the murky world of high-class prostitution for the general reader. The fact that she does so with humor, candor, and a reporter's gimlet eye is an added delight. But Some Girls also undertakes the deepest challenge: it reveals how and why a middle-class kid like Lauren found herself in such a line of work--and how she got out."
-Jennifer Egan, author of The Keep

"Wow, what a story! Jillian Lauren's Some Girls is the most exotic sex worker memoir I've ever read. Imagine being paid to play with the richest men in the world? Few women dare to speak of their youthful sexual adventures with such honesty and clarity. I can't wait for the movie."
-Annie Sprinkle, Ph.D

Catfights, mad cash, priceless jewels -- what's a young girl from Jersey to do? Welcome to the sultan's harem, a secret world filled with artful seduction and parties that never end. What starts out juicy quickly turns soulful in this elegantly crafted, multi-layered stunner of a memoir. Lauren strikes the perfect balance between light and shadow in her spellbinding tale of one woman's exotic search for identity and true love."
-Rachel Resnick, author of Love Junkie

"Lauren is a gifted and lyrical writer whose coming-of-age tale has the reader firmly under its spell by the end of the first paragraph. Her emotional insight is deeply penetrating, allowing us to feel kinship with her even as we marvel at her rarefied adventures. Lauren generously brings us along for an amazing ride as she seeks, and then finds, meaning and connection in her life. I couldn't put it down."
-Nina Hartley, author of Nina Hartley's Guide to Total Sex

"Jillian Lauren's Some Girls takes readers into a world so dramatic, it seems almost too far out to be true. But the bracing realism that infuses her storytelling lifts the veil of harem life and shows us the gritty truth of life in fantasy-land. Her transformation from dream girl-for-hire to rock-n-roll mama proves that resilience and reinvention, more than diamonds, are a girl's best friend.
-Lily Burana, author of Strip City

"Some Girls reads like a swiftly-paced novel, but gets under your skin in a way fiction can't. This is a striptease of a book, sexy and mesmerizing at first, but at the end a very real woman stands in front of you, exposed and vulnerable. I couldn't put it down, and when I was done, I couldn't stop thinking about it."
-Claire LaZebnik, author of Knitting Under the Influence
Advertisement