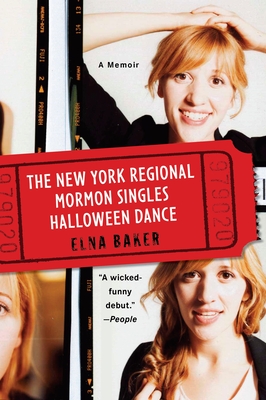 The New York Regional Mormon Singles Halloween Dance (Paperback)
A Memoir
Plume, 9780452296497, 288pp.
Publication Date: September 28, 2010
Other Editions of This Title:
Hardcover (10/15/2009)
* Individual store prices may vary.
Description
"A wickedly funny debut. Baker is both self-absorbed and generous, whip-smart and naïve; she apologizes for none of it."—People

It's lonely being a Mormon in New York City. Every year, Elna Baker attends the New York Regional Mormon Singles Halloween Dance. This year, her Queen Bee costume (which involves a funnel stinger stuck to her butt) isn't attracting the attention she'd anticipated. So once again, Elna finds herself alone, standing at the punch bowl, stocking up on Oreos, a virgin in a room full of thirty-year-old virgins doing the Funky Chicken. But loneliness is nothing compared to what Elna feels when she loses eighty pounds, finds herself suddenly beautiful... and in love with an atheist.

Brazenly honest, The New York Regional Mormon Singles Halloween Dance is Elna Baker's hilarious and heartfelt chronicle of her attempt to find love in a city full of strangers and see if she can steer clear of temptation and just get by on God.
About the Author
ELNA BAKER is a Mormon stand-up comedian and writer. She has performed in many of New York City's hottest venues, including Caroline's and the Upright Citizen's Brigade Theatre, as well as on NPR's This American Life, and received grants for her work from Yaddo and Breadloaf. Baker lives in New York City.
Praise For The New York Regional Mormon Singles Halloween Dance: A Memoir…
"An original, witty piece of celibate chick lit. Baker is a fish-out-of-water Mormon NYU grad who loses 80 pounds, tries acting and stand-up comedy and, as you learn in the acknowledgments, ends up chummy with Elizabeth Swados and Ira Glass. She has a genuine but funny take on faith."—The Boston Globe
 
"If I told you that Elna Baker had written a frank and self-deprecating memoir about dating which is unlike any other frank and self-deprecating memoir about dating, you probably would not believe me. However, Baker is a Mormon. A peachy, astute, witty 27-year-old Mormon who has never had sex."—Louise France, The Observer (England)
 
"A funny, touching story about coming to the big city, where she loses the certainty of her beliefs, if not her way."—Sherryl Connelly, New York Daily News
 
"A wickedly funny debut. Baker is both self-absorbed and generous, whip-smart and naïve; she apologizes for none of it."—People