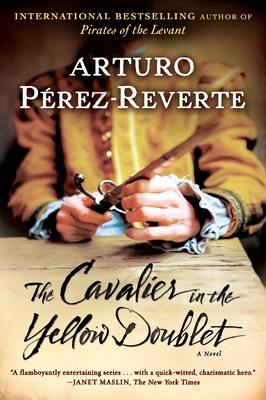 The Cavalier in the Yellow Doublet (Paperback)
Plume Books, 9780452296503, 369pp.
Publication Date: August 31, 2010
Description
The fifth novel in the adventures of Captain Alatriste, a seventeenth-century swashbuckler and "a twenty-first-century literary phenomenon"(Entertainment Weekly). In the cosmopolitan world of seventeenth-century Madrid, Captain Alatriste and his protege Inigo are fish out of water. But the king is determined to keep Alatriste on retainer--regardless of whether his "employment" brings the captain uncomfortably close to old enemies. Alatriste begins an affair with the famous and beautiful actress, Maria Castro, but soon discovers that the cost of her favors may be more than he bargained for--especially when he and Inigo become unwilling participants in a court conspiracy that could lead them both to the gallows.
About the Author
Arturo Perez-Reverte's novels have captivated readers around the world and earned him a reputation as "the master of the intellectual thriller" (Chicago Tribune). Originally a war correspondent, he now writes fiction full-time. His novels include the Captain Alatriste series, The Flanders Panel, The Club Dumas, The Fencing Master, The Seville Communion, The Nautical Chart, The Queen of the South, and What We Become. His books have been published in fifty countries.He is a member of the Spanish Royal Academy. He lives near Madrid, Spain.
Advertisement