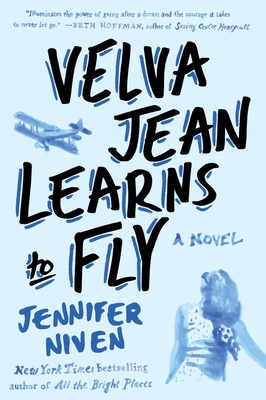 Velva Jean Learns to Fly (Paperback)
Plume Books, 9780452297401, 412pp.
Publication Date: August 30, 2011
Description
From the author of theNew York TimesbestsellersHolding Up the UniverseandAll the Bright Places(soon to be a major motion picture starring Elle Fanning). After Pearl Harbor, Velva Jean signs up for service and gets her wings, risking her life and her heart.
"A major achievement.
Southern Literary Review
Velva Jean Hart, the fiercely independent heroine of Jennifer Niven's spectacular debut novel, Velva Jean Learns to Drive, returns in a captivating adventure that literally sends her soaring. Bristling at the limitations faced by a woman in rural Appalachia and fueled by the memory of her late Mama telling her to "live out there," Velva Jean hits the road to pursue her dream of singing at the Grand Ole Opry. Then her beloved big brother pays a surprise visit and treats Velva Jean to a flying lesson that ignites a brand-new dream: to become a female pilot with the WASPs of World War II. Funny, poignant, and utterly unforgettable, Velva Jean Learns to Fly will have fans cheering all over again.
About the Author
JENNIFER NIVEN has written four novels for adults Velva Jean Learns to Drive, Velva Jean Learns to Fly, Becoming Clementine, andAmerican Blonde and three non-fiction books Ada Blackjack, The Aqua-Net Diaries, andThe Ice Master, whichwas named a top non-fiction book byEntertainment Weekly.She has also written two books for young adults: Holding Up the Universeand theNew York TimesbestsellerAll the Bright Places; the movie, starring ElleFanning, will be released in 2017. Although she grew up in Indiana, she now lives with her fiance and literary cats in Los Angeles, which remains her favorite place to wander. For more information, visit JenniferNiven.com, GermMagazine.com, or find her on Facebook."
Praise For Velva Jean Learns to Fly…
Praise for Velva Jean Learns to Fly:
 
A Southern Literary Review "Read of the Month"
 
"An endearing portrait of a young woman with a big heart—Velva Jean Learns to Fly illuminates the power of going after a dream and the courage it takes to never let go."
—Beth Hoffman, bestselling author of Saving CeeCee Honeycutt
 
"Besides creating a gutsy heroine, who, despite the repressive times, never becomes bitter, Niven's writing shines overall. Cheers to Niven, Velva Jean, and the two further books of her remarkable story to come in 2012 and 2013."
—Booklist, starred review
 
"Readers who enjoy Fannie Flagg and other down-home Southern writers will be entertained by this saucy adventure sprinkled with a gamut of human emotions."
—Library Journal
 
"A tasteful blend of comedy, inspiration, and endurance . . . filled with love, despair, and life-threatening adventures. Niven delivers another tale full of hope, heartbreak, and nostalgia in this sequel to Velva Jean Learns to Drive."
—Publishers Weekly
 
"A very special World War II novel. . . . Jennifer Niven's ongoing portrayal of this totally engaging young woman set within a stunning vision of the American South during WWII is a major achievement. The explorations of the Nashville music industry and the WASP initiative are rich in evocative detail."
—Southern Literary Review

"Velva Jean's story delves into the contributions made by amazing women during World War II and tells a compassionate story about adventure, love, and war. This is a wonderful book—very hard to put down."
—Ann Howard Creel, author of The Magic of Ordinary Days
 
"A sweeping adventure that takes the reader from the streets of Nashville to the belly of a WWII bomber."
—Benjamin Percy, award-winning author of Red Moon and The Wilding
 
"In this fun, fast-paced, heartwarming sequel to Velva Jean Learns to Drive, we follow the beloved young heroine from her mountain home to Nashville. But soon after Pearl Harbor is attacked, Velva Jean begins singing a new song—one full of patriotism, courage, and feisty independence. The perfect read for any girl of any age who years to soar beyond her dreams."
—Susan Gregg Gilmore, author of The Funeral Dress and Looking for Salvation at the Dairy Queen

"From the ballads of the Grand Ole Opry to the magnificent women of Avenger Field, Jennifer Niven spins a tall tale that is utterly heartfelt and rings true."
—Sherri L. Smith, award-winning author of Flygirl

"Putting this one down is a near impossibility. The descriptions of the work, the prejudice, fear, and bittersweet success of becoming a female pilot seemed so real I felt as if I were sharing every step with Velva Jean."
—Nancy E. Turner, award-winning author of These Is My Words
 
"I devoured Velva Jean Learns to Fly and immediately began spreading the word: This one is not to be missed!"
—Cassandra King, author of The Same Sweet Girls

"Who would have thought that a young woman's adventures in World War II would capture my attention—and keep it? This gripping, heartwarming action-adventure tale stays with you long after you turn the last page."
—James Earl Jones, Tony Award-winning and Emmy Award-winning actor
Advertisement