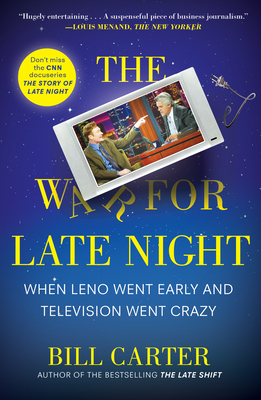 The War for Late Night: When Leno Went Early and Television Went Crazy (Paperback)
When Leno Went Early and Television Went Crazy
Plume Books, 9780452297494, 417pp.
Publication Date: September 27, 2011
Description
The New York Times bestselling author of The Late Shift delivers "a boisterous, two-timing, high-stakes drama about the business of comedy" (The Associated Press).
No one is more uniquely suited to document television's latest late- night travesty than veteran media reporter and bestselling author, Bill Carter. NBC's CEO, Jeff Zucker, had it all worked out when he moved Jay Leno from behind the desk at The Tonight Show, and handed the reins over to Conan O'Brien. But as everyone knows, his decision was a spectacular failure. Ratings plummeted, affiliates were enraged-and when Zucker tried to put everything back the way it was, that plan backfired as well.
In candid detail, Carter charts the vortex that sucked in-not just Leno and O'Brien-but also Letterman, Stewart, Fallon, Kimmel, and Ferguson as frantic agents and network executives tried to manage a tectonic shift in television's most beloved institution.
About the Author
Bill Carter joined The New York Times as a national media reporter in 1989. He is the author of the New York Times bestseller The Late Shift, two other books on the television industry, Monday Night Mayhem and Desperate Networks, and has written numerous articles for The New York Times Magazine and other publications. He has been a guest on Nightline, Today, CNN, Charlie Rose, NBC Nightly News with Brian Williams, and many other shows. A graduate of the University of Notre Dame, he lives in New Jersey with his wife. They have two children.
Advertisement