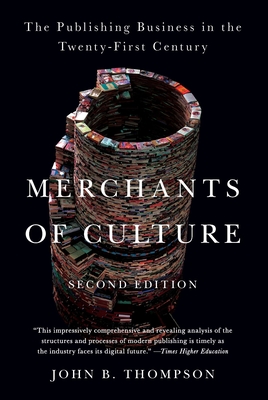 Merchants of Culture (Paperback)
The Publishing Business in the Twenty-First Century
Plume, 9780452297722, 464pp.
Publication Date: March 27, 2012
Other Editions of This Title:
Hardcover (11/18/2013)
Hardcover (9/1/2010)
Paperback (3/1/2012)
* Individual store prices may vary.
Description
"All you need to know about the industry at a time of momentous change."
-Drake McFeely, chairman and president, W.W. Norton & Company
For nearly five centuries, the world of book publishing remained largely static. But at the dawn of the twenty-first century, the industry faces a combination of economic pressures and technological change that is forcing publishers to alter their practices and think hard about the future of the book.
John Thompson's riveting account dissects the roles of publishers, agents, and booksellers in the United States and Britain, charting their transformation since the 1960s. Offering an in-depth analysis of how the digital revolution is changing the game today, Merchants of Culture is the one book that anyone with a stake in the industry needs to read.
About the Author
John B. Thompson is Professor of Sociology at the University of Cambridge and Fellow of Jesus College, Cambridge.
Praise For Merchants of Culture: The Publishing Business in the Twenty-First Century…
"A fine-grained snapshot... of the terminal struggle of traditional publishers. [Thompson's] mordant picture of an industry in crisis gives publishers, writers and readers much to think about."—Jason Epstein, The New York Review of Books

"[Thompson] draws on valuable interviews and the mass of statistics that the field itself devours in search of success. He offers a calm, relatively sanguine account of contemporary publishing, a world dominated by the $6 million advance, the blockbuster and the buzz."—Times Literary Supplement

"Thompson bring forensic keeneness, acuity, breadth, depth and wit to this page-turning study of the book trade, its denizens, demons and deities. [Merchants of Culture] ought to be prescribed reading for publishers, booksellers, writers, authors, reporters, reviewers and critics."—Mail & Guardian, South Africa

"John B. Thompson's research has produced an excellent history and analysis; it's a wonderful book, highly recommended."—Australian Book Review

"The single most impressive fact to drive home about this remarkable book is that Thompson displays a rare gift, that of presenting a world of the most heart-stopping complexity in short, simple, inter-related steps ... This is a book to buy and use and keep on your shelf."—Tribune

"A superb history and analysis of publishing and bookselling, from the 1960s to the present, against the background of the rapidly expanding digital media. A salutary, scary read."—John Conwell, The New Statesman

"A thorough and thoughtful analysis of publishing as a relatively self-contained world - a 'field' obeying rules that are ultimately economic, but in ways refracted through maneuvers and conflicts that defy simple cost-benefit analysis. Anyone interested in publishing will want to read it."—Inside Higher Ed

"For some time to come, this is bound to be the definitive thing to read for anyone trying to understand the infrastructure of book culture - especially as it has taken shape over the past two or three decades."—The National

"This impressively comprehensive and revealing analysis of the structures and processes of modern publishing is timely as the industry faces its digital future."—Katharine Reeve, Times Higher Education Book of the Week

"Thompson's study is one of the most valuable studies on publishing in recent decades, and promises to be the new reference point for sociological research on the publishing industry."—Cultural Sociology

"A very valuable book that is likely to become the standard reference on the Anglo-American publishing industry for many years to come."—MedieKultur

"For the uninitiated, Merchants of Culture provides a very perceptive, thorough and in-depth view of how trade publishing really works in the English-speaking world today. For those of us in the business or for writers who are mystified by their publisher's behavior, it offers a penetrating account of our business by a very shrewd, analytical observer. This book is the only thing I've ever read about our industry that has really got it."—William Shinker, President and Publisher of Gotham Books and Avery Books, Penguin Group USA

"Thompson's analysis of UK and US trade publishing is extraordinarily acute and insightful. It should be required reading for new entrants to the industry—but it will also illuminate many things for old publishing hands."—Helen Fraser, Former Managing Director, Penguin Group UK

"This uncommonly perceptive and thorough study tells you all you need to know about the publishing industry at a time of momentous change."—Drake McFeely, Chairman and President, W.W. Norton & Company

"One of the most intelligent and accessible accounts of the curious business of trade book publishing I have read. Anyone interested in knowing more about how our industry works—and where it might be headed—will find this book invaluable."—Morgan Entrekin, CEO and Publisher, Grove Atlantic

"An eye-opening tour of both American and British trade publishing. Even veterans in the publishing world will learn a lot, and novices will feel welcome, in this behind-the-scenes examination of how book publishing works in an age of mass marketing and digitization. Thompson knows more about contemporary publishing than any other scholar. He asks just the right questions of his sources, and their responses offer unique and illuminating testimony from an array of publishing insiders. Theoretically sophisticated but not burdened by academic apparatus, this is a landmark work."—Michael Schudson, Columbia University

"Thompson's ground-breaking research into the world of consumer book publishing provides a fascinating insight into the high-risk culture on both sides of the Atlantic. Revealed is the world of agents and scouts, of auctions and deals, often with large sums of money paid out to authors, as publishers gamble in the hope of signing the next Harry Potter or Dan Brown. His work is of the highest quality and should be read by all those concerned about our literary culture and its future."—Angus Phillips, Director, Oxford International Centre for Publishing Studies

"From now on whenever anyone asks me how they can get published or get a job in publishing I'm going to tell them to buy this book because it is simply perfect at summing up how the whole messy business works and explaining why it very frequently doesn't work. It teaches a careful reader as much as any three year degree course on the subject."—Andrew Crofts, author of The Freelance Writer's Handbook

"As soon as I tore open the box, I had to start reading...It's frank, comprehensive, well-researched, with lots of interviews with people who know—and it pulls no punches. Want to know about the rise of the literary agent or why your mid-list books aren't marketed properly or what the digital revolution means for the author in the street? Then buy this book."—Karen Ball, author of Starring Me as Third Donkey