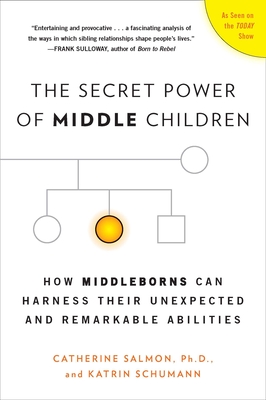 The Secret Power of Middle Children (Paperback)
How Middleborns Can Harness Their Unexpected and Remarkable Abilities
Plume, 9780452297937, 304pp.
Publication Date: July 31, 2012
* Individual store prices may vary.
Description
Middle children are underachievers, overshadowed and overlooked, right? Wrong.

Combining research in evolutionary biology, psychology and sociology with real-life stories, psychologist Catherine Salmon, Ph.D., and journalist Katrin Schumann reveal what it really means to grow up in between, including how:

• Middles receive less financial and emotional support from their parents, but become remarkably successful and innovative adults
• Middles can be stubbornly independent as teens, but are extraordinary team players later in life
• Middles are often seen as outcasts, but are actually far less likely to get divorced or be in therapy than their siblings.

With surprising insights into how our birth order affects us, as well as constructive advice on how to maximize advantages and overcome drawbacks, The Secret Power of Middle Children shows middleborns at any age (and their parents) how to use what seems to be a disadvantage as a strategy for personal and professional success.
About the Author
Catherine Salmon, Ph.D., is an associate professor of psychology at the University of Redlands. She lives in Beaumont, California.

Katrin Schumann is a journalist, freelance editor, and mother of three. She lives in Dedham, Massachusetts.
Praise For The Secret Power of Middle Children: How Middleborns Can Harness Their Unexpected and Remarkable Abilities…
"Powerful advice … anchored in hard science and illuminated by vivid case examples."—David M. Buss, author of Evolutionary Psychology

"Entertaining and provocative."—Frank J. Sulloway, author of Born to Rebel