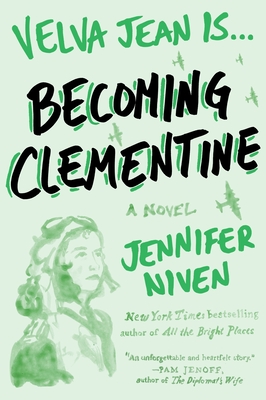 Becoming Clementine (Paperback)
Book 3 in the Velva Jean series
Plume, 9780452298101, 368pp.
Publication Date: September 25, 2012
Other Editions of This Title:
Digital Audiobook (9/24/2012)
Compact Disc (9/25/2012)
Pre-Recorded Audio Player (9/25/2012)
MP3 CD (9/25/2012)
Compact Disc (9/25/2012)
* Individual store prices may vary.
Description
For fans of Alan Furst and Sarah Blake, a spellbinding story of a secret mission and dangerous passion in World War II Paris, from the author of the New York Times bestsellers Holding Up the Universe and All the Bright Places (soon to be a major motion picture starring Elle Fanning). 

"An unforgettable tale of love, sacrifice, courage and compassion that will resonate with readers long after they finish the book."—Chicago Tribune


After delivering a B-17 Flying Fortress to Britain, an American volunteers to copilot a plane carrying special agents to their drop spot over Normandy. Her personal mission: to find her brother, who is missing in action. After her plane is shot down, though, she's on the run for her life.
In Paris, the beautiful aviatrix Velva Jean Hart becomes Clementine Roux, a daring woman on an epic adventure with her team to capture an operative known only as "Swan." Once settled on Rue de la Néva, Clementine works as a spy with the Resistance and finds herself falling in love with her fellow agent, Émile, a handsome and mysterious Frenchman with secrets of his own. When Clementine ends up in the most brutal prison in Paris, trying to help Émile and the team rescue Swan, she discovers the depths of human cruelty, the triumph of her own spirit, and the bravery of her team, who will stop at nothing to carry out their mission.
Readers of 22 Britannia Road, The Postmistress, and Suite Francaise will cherish Becoming Clementine—a romantic World War II adventure told from the perspective of a courageous and beautiful heroine. Niven is the author of the popular Velva Jean novels, including Velva Jean Learns to Drive and Velva Jean Learns to Fly.
About the Author
Jennifer Niven is the New York Times bestselling author of All the Bright Places and Holding Up the Universe, as well as the popular Velva Jean series. She is also the author of several non-fiction books, including Ada Blackjack, The Aqua-Net Diaries, and The Ice Master, which was named a top non-fiction book by Entertainment Weekly. Her New York Times bestseller All the Bright Places is soon to be a major motion picture starring Elle Fanning. Although she grew up in Indiana, she now lives with her fiancé and literary cats in Los Angeles, which remains her favorite place to wander.
Praise For Becoming Clementine: Book 3 in the Velva Jean series…
Author of the New York Times bestsellers All the Bright Places and Holding Up the Universe
"Unforgettable and heartfelt."
—
Pam Jenoff, bestselling author of The Kommandant's Girl and The Diplomat's Wife
"A page-turner of a story."
—James Earl Jones, Tony Award-winning and Emmy Award-winning actor
"An unforgettable tale of love, sacrifice, courage and compassion that will resonate with readers long after they finish the book."
—Chicago Tribune
"A spell-binding spy saga."
—Elizabeth P. McIntosh, OSS/CIA, and author of Sisterhood of Spies
"A heart-stopping tale of wartime intrigue, romance and high adventure."
—Romantic Times (A Top Pick)
"It's all here—intrigue, romance, heroism. A terrifically absorbing read."
—Will Irwin, author of The Jedburghs and Abundance of Valor
"Richly textured, historically evocative, emotionally mesmerizing,
Becoming Clementine
takes you on a journey so gripping you can smell the gun smoke."
—
Kerry Reichs, author of What You Wish For and Leaving UnknownPraise for Velva Jean Learns to Fly
Featured on
Los Angeles Magazine's
"To Read" list
Southern Literary Review 
Read of the Month
"An endearing portrait of a young woman with a big heart—
Velva Jean Learns to Fly
illuminates the power of going after a dream and the courage it takes to never let go." —Beth Hoffman, bestselling author of
Saving CeeCee Honeycutt
"Velva Jean Hart is a heroine with grit, grace, determination, and enough humanity to hook readers with ferocious tenderness, making them want to find and befriend her. Besides creating a gutsy heroine, who, despite the repressive times, never becomes bitter, Niven's writing shines overall. Cheers to Niven, Velva Jean, and the two further books of her remarkable story to come in 2012 and 2013." —
Booklist,
starred review
"Velva Jean's story delves into the contributions made by amazing women during World War II and tells a compassionate story about adventure, love, and war. This is a wonderful book—very hard to put down."
—Ann Howard Creel, author of
The Magic of Ordinary Days
"Readers who enjoy Fannie Flagg and other down-home Southern writers will be entertained by this saucy adventure sprinkled with a gamut of human emotions." —
Library Journal
"A tasteful blend of comedy, inspiration, and endurance…. filled with love, despair, and life-threatening adventures. Niven delivers another tale full of hope, heartbreak, and nostalgia in this sequel to
Velva Jean Learns to Drive
." —
Publishers Weekly
"I devoured
Velva Jean Learns to Fly
and immediately began spreading the word: This one is not to be missed!"—Cassandra King, author of
The Same Sweet Girls
"For any who have ever chased a dream, for any who have ever risked it all, for any who have ever stumbled and risen and brushed the grit from their palms, for any who have ever grieved and mended, fallen in and out of love, wished to fly and then flown, there is Velva Jean, the fearless, wide-eyed, big-hearted heroine of Jennifer Niven's second novel, a sweeping adventure that takes the reader from the streets of Nashville to the belly of a WWII bomber." —Benjamin Percy, award-winning author of
The Wilding
and
Refresh, Refresh
"A very special World War II novel…. Jennifer Niven's ongoing portrayal of this totally engaging young woman set within a stunning vision of the American South during WWII is a major achievement. The explorations of the Nashville music industry and the WASP initiative are rich in evocative detail." —
Southern Literary Review
"In this fun, fast-paced, heartwarming
sequel
to
Velva Jean Learns to Drive
, we follow the beloved young heroine from her mountain home to Nashville. But soon after Pearl Harbor is attacked, Velva Jean begins singing a new song—one full of patriotism, courage, and feisty independence. The perfect read for any girl of any age who yearns to soar beyond her dreams." —Susan Gregg Gilmore, author of
The Improper Life of Bezellia Grove
and
Looking for Salvation at the Dairy Queen
"I loved
Velva Jean Learns to Drive
, but I love the sequel even more. Niven's gift for place, space, and character made me feel the heat and dust in Texas and the fear Velva Jean felt at the North Carolina base and the determination she had to prove herself." —
Historical Novels Review
"God Bless Southern women, their dreams, energy, and courage. Jennifer Niven and her heroine Velva Jean have those in spades." —Beth Grant, award-winning actress from
Little Miss Sunshine
and
No Country for Old Men


"You don't have to read the first to become completely engrossed with the second, but once you meet Velva Jean, you're going to want to!" —
American Library Association
"Who would have thought that a young woman's adventures in World War II would capture my attention—and keep it? Velva Jean pulled me into her story and wouldn't let me go, from her comical and sometimes humiliating trip to Nashville, the city of her dreams, to the first time she grabs the throttle of a plane and soars. We see her get her wings and fly through wartime danger, intrigue, suspense, and even sabotage. This gripping, heartwarming action-adventure tale stays with you long after you turn the last page." —James Earl Jones, Tony Award–winning, Emmy Award–winning actor
"Funny [and] touching." —
Wilmington Star News


"Putting this one down is a near impossibility. The descriptions of the work, the prejudice, fear, and bittersweet success of becoming a female pilot seemed so real I felt as if I were sharing every step with Velva Jean." —Nancy E. Turner, award-winning author of
These Is My Words
"From the ballads of the Grand Ole Opry to the magnificent women of Avenger Field, Jennifer Niven spins a tall tale that is utterly heartfelt and rings true." —Sherri L. Smith, author of
Flygirl

Praise for Velva Jean Learns to Drive


"A touching read, funny and wise, like a crazy blend of Loretta Lynn, Dolly Parton, a less morose Flannery O'Connor, and maybe a shot of Hank Williams . . . Niven makes some memorable moonspun magic in her rich fiction debut." —Publishers Weekly, starred review

"In this story Jennifer Niven creates a world long gone, a mountain past where people suffer failure, loss, and betrayal, as well as the strength and joy of connection and deep love. Velva Jean Learns to Drive takes us far into this soaring, emotional country, the place where our best music comes from." —Robert Morgan, author of Gap Creek

"A fluid storyteller." —Wall Street Journal

"Velva Jean learns to . . . not only drive, but to soar. This beautifully written coming-of-age story captivated me, and I recommend it to anyone who has ever longed to 'live out there.'" —Ann B. Ross, author of the bestselling Miss Julia novels

"Spirited." —Parade
Book Videos