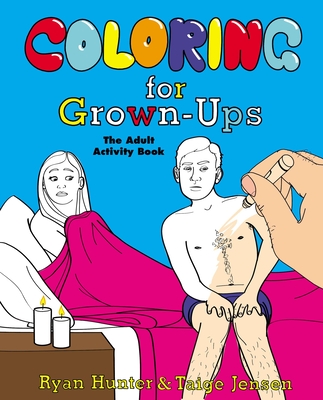 Coloring for Grown-Ups: The Adult Activity Book (Paperback)
The Adult Activity Book
Plume Books, 9780452298255, 64pp.
Publication Date: October 30, 2012
Description
Two veterans of offbeat Internet humor hilariously combine the mindless fun of children's coloring books with the mind-numbing realities of modern adult life in this coloring book for adults.

With over 150 videos and 65 million Youtube views to their credit, Ryan Hunter and Taige Jensen know how to make people laugh. Their YouTube video, -Hipster Olympics- racked up nearly three million hits and quickly attained worldwide cult status amongst both the cool crowd (and those who like to poke fun at them). Their recent hit -The Walken Dead- was viewed over 600,000 times in less than three weeks. Now, the duo put their prolific creative talents to work in Coloring for Grown-Ups. The artwork may resemble that of a children's activity book, but look closer. Offering an ironic look at the stereotypes, habits, and challenges of modern adulthood, Coloring for Grown-Ups includes:
-A -Hipster or Homeless?- coloring page
-The 6 Steps to Abandoning Your Hopes and Dreams checklist
-An -Adulthood A to Z, - (-A is for Anti-Depressants-, -B is for Bills-)
Darkly humorous--and fun for any occasion --Coloring for Grown-Ups is the perfect stocking stuffer for reluctant adults of any age.
About the Author
Ryan Hunter and Taige Jensen have gotten more than 65 million Youtube views on their personal channel, POYKPAC. Hunter and Jensen write and direct comedy for MTV, College Humor, Fremantle Media, Slate, Current TV, EUE Screen Gems, Next New Networks, MyDamnChannel, and Huffington Post Comedy/AOL. They also wrote and directed -Good Morning Internet, - a 15-episode original web series that aired on IFC and IFC.com, and are the authors of Coloring for Grown-Ups.
Advertisement