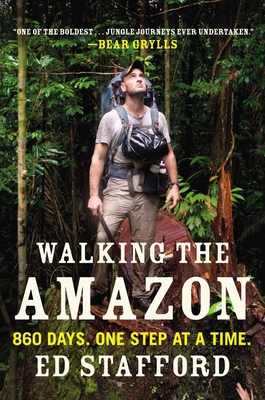 Walking the Amazon
860 Days. One Step at a Time.
Paperback

* Individual store prices may vary.
Description
From the star of Discovery Channel's Naked and Marooned comes a a riveting, adventurous account of one man's history-making journey along the entire length of the Amazon—and through the most bio-diverse habitat on Earth.  Fans of Turn Right at Machu Piccu and readers of Jon Krakauer and Bill Bryson and will revel in Ed Stafford's extraordinary prose and lush descriptions. 

In April 2008, Ed Stafford set off to become the first man ever to walk the entire length of the Amazon. He started on the Pacific coast of Peru, crossed the Andes Mountain range to find the official source of the river. His journey lead on through parts of Colombia and right across Brazil; all while outwitting dangerous animals, machete wielding indigenous people as well as negotiating injuries, weather and his own fears and doubts. Yet, Stafford was undeterred. On his grueling 860-day, 4,000-plus mile journey, Stafford witnessed the devastation of deforestation firsthand, the pressure on tribes due to loss of habitats as well as nature in its true-raw form. Jaw-dropping from start to finish, Walking the Amazon is the unforgettable and gripping story of an unprecedented adventure.

Walking the Amazon is also available as a Spanish edition entitled Caminado El Amazonas.
Praise For Walking the Amazon: 860 Days. One Step at a Time.…
"One of the boldest modern-day adventures ever taken."—Bear Gryllis, host of Discovery Channel's Man Vs. Wild

"[Walking the Amazon] stands elbow-to-elbow with adventure classics from Thesiger to Krakauer."—Mark Adams, author of Turn Right at Machu Picchu

"All generations need heroes; it's lovely to have a real one for a change."—The Times (London)

"Totally, completely and utterly mad."—Michael Palin, author and actor

"Vicariously joining this 860-day trek through extremely inhospitable terrain—made all the more challenging by hostile tribes, lethal animals, food scarcities, and extreme weather—has made for an exhilarating adventure."—National Geographic
Plume, 9780452298262, 336pp.
Publication Date: August 28, 2012
About the Author
Ed Stafford is the current European Adventurer of the Year; he was also finalist for the National Geographic Adventurer of the Year in 2010, and he is a Guinness World Record holder for his feat (feet?!). Ed Started running worldwide expeditions after retiring from the British army as a captain in 2002. When not leading trips, he worked alongside the United Nations in Afghanistan assisting with the running of their first-ever presidential elections. Prior to this journey, Ed was in production with the BBC on its conversation series Lost Land of the Jaguar. In August 2010, he became the first man to walk the length of the Amazon River, accompanied by forestry worker Gadiel "Cho" Sanchez Rivera, for all but four months of the twenty-eight-month journey. Ed is planning future projects and he travels the world speaking about his adventures. To follow Ed, visit his website: edstafford.org.
or
Not Currently Available for Direct Purchase