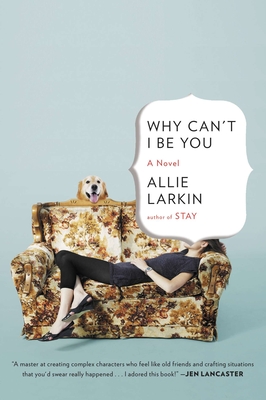 Why Can't I Be You (Paperback)
A Novel
Plume, 9780452298378, 304pp.
Publication Date: February 26, 2013
Other Editions of This Title:
Compact Disc (9/1/2013)
MP3 CD (9/2/2014)
Compact Disc (9/2/2014)
MP3 CD (2/1/2014)
Compact Disc (2/1/2014)
MP3 CD (9/1/2013)
MP3 CD (9/1/2013)
Compact Disc (9/1/2013)
* Individual store prices may vary.
Description
Soon to be a Major Motion Picture

"An engaging and smart novel with rich characters."—She Knows Red Hot Book of the Week

At one time or another, everyone has wished they could be someone else. Exploring this universal longing, Allie Larkin follows up the success of her debut novel, Stay, with a moving portrait of friendship and identity.

When Jenny Shaw hears someone shout "Jessie!" across a hotel lobby, she impulsively answers. All her life, Jenny has toed the line, but something propels her to seize the opportunity to become Jessie Morgan, a woman to whom she bears an uncanny resemblance. Lonely in her own life, Jenny is embraced by Jessie's warm circle of friends—and finds unexpected romance. But when she delves into Jessie's past, Jenny discovers a secret that spurs her to take another leap into the unknown.
About the Author
Allie Larkin is the internationally bestselling author of the novels Stay, and Why Can't I Be You. She has never ordered a dog off the internet or assumed a new identity to attend a high school reunion. When Allie writes, she wears an oversized circa 1980s acrylic sweater that is a crime against fashion and good taste in general. Allie lives in the San Francisco Bay Area with her husband, Jeremy, their German Shepherd, Stella.
Praise For Why Can't I Be You: A Novel…
"A charming, heart-felt story of love, laughter, and borrowed identity, Why Can't I Be You explores the brilliant notion that it's not until we've let go of who we think we should be that we can discover who we actually are."—Amy Hatvany, USA Today bestselling author of Outside the Lines

"An engaging and smart novel with rich characters."—SheKnows.com Red Hot Book of the Week 

"A fun and quirky read for anyone who always wondered what it would be like to live life in someone else's shoes. Readers will likely identify with the main character, and will definitely enjoy the crazy ride along the way thanks to Larkin's breezy and light writing style."—Romantic Times Book Review 

"The wonderful dialogue and character development make it easy to get swept up and wonder not who would I rather be, but what am I holding back?"—The Gazette 

"An unexpected and completely fresh take on the familiar theme of mistaken identity…. She's a master at creating complex characters who feel like old friends and crafting situations that you'd swear really happened. In other words? I adored this book! Put Allie Larkin on your Authors to Watch List because she's at the top her game."—Jen Lancaster, bestselling author of Jeneration X  

"Allie Larkin's latest explores an intriguing question: What if you could shed your own life, and step into someone else's? Why Can't I Be You is a thoughtful and compulsively readable examination of identity, friendship and trust—and what happens when all three spectacularly collide."—Sarah Pekkanen, bestselling author of These Girls