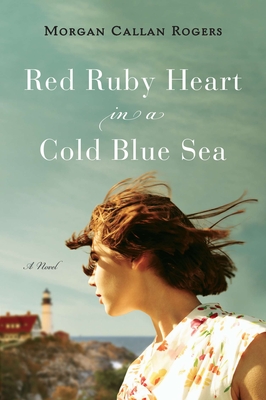 Red Ruby Heart in a Cold Blue Sea (Paperback)
A Novel (Florine Series)
Plume, 9780452298637, 320pp.
Publication Date: May 28, 2013
Other Editions of This Title:
Hardcover (1/19/2012)
Pre-Recorded Audio Player (4/1/2012)
CD-Audio (1/19/2012)
Hardcover, Large Print (5/1/2012)
* Individual store prices may vary.
Description
"An authentic page turner…. Rogers [vividly] captures this era of Elvis records and small-town Maine fishing life." —Down East
In 1963, twelve-year-old Florine Gilham enjoys an idyllic childhood in small-town Maine—until her beloved mother vanishes. Untethered and adrift in the wake of her disappearance, Florine finds her once-cherished joys—watching her father's lobster boat come into port, baking bread with her grandmother, and causing mischief with the summer folk—suddenly ring hollow. When a figure from her father's past comes calling, Florine must find the courage to lay down roots of her own.  Set against the gorgeous backdrop of the Maine coast, Red Ruby Heart in a Cold Blue Sea is an extraordinary snapshot of a bygone America as seen through the eyes of an iconic New England girl.
About the Author
Morgan Callan Rogers is a native Mainer who grew up in the shipbuilding city of Bath and splits her time between coastal Maine and South Dakota. This is her first novel.
Praise For Red Ruby Heart in a Cold Blue Sea: A Novel (Florine Series)…
"Rendered first-person in confiding, colloquial prose . . . [like] the bittersweet coming-of-age movies (see:
Stand By Me
,
The Last Picture Show
) that don't get made much anymore." —Leah Greenblatt,
Entertainment Weekly
"Deeply moving . . . Callan Rogers writes with a superb sense of place and period, delving deftly into true-to-life responses to unexplained loss . . . A realistic and resonant coming-of-age novel." —
Kirkus
"Callan Rogers ' astonishing debut brilliantly illuminates deep loss, impossible longing, and our yearning to hold onto love no matter what, all told in the lake-clear voice of one remarkable young heroine. So rapturously moving, I could barely bring myself to close the final page." —Caroline Leavitt, author of
Pictures of You
"Rich in landscape and character, with regional dialect and phrases that will tip many mouths into grins." —Annie Bostrom,
Booklist
"Young Florine Gilham's mother disappears on her annual weekend getaway, leaving a large hole in Florine's life. This coming of age story is poignant and affecting. Set on the coast of Maine in the early sixties, Callan Rogers has portrayed a strong spirited young girl with sensitivity and humor. This is one to recommend to older teens as well as for adults."
—
Sue Richardson, Maine Coast Book Shop, Damariscotta, Maine
"I highly recommend
Red Ruby Heart in a Cold Blue Sea
by Morgan Callan Rogers. The author grew up in Castine, and the Maine setting, characters, and plot are so believable. I loved the book. The protagonist, Florine ("named after Daddy's mother Florence & Carlie's mother Maxine") is born in May of 1951, the daughter of a waitress and a lobsterman, who are absolutely in love with one another. When the story begins 12-year-old Florine is being grounded for nearly burning down a summer cottage with some of her friends (accidentally—a prank gone wrong). Shortly after that Florine's mother, Carlie, disappears on an annual weekend trip to a nearby coastal resort (think Bar Harbor). Florine is proud, stubborn and spunky, and not afraid to take matters into her own hands. She moves in with her grandmother, "Grand" when a conflict grows between her & her father. Her friendships and family relationships grow apart, and reconnect. There are heart-breaking moments in the book, but there is always the thread of strength, resilience, and humor that makes this novel a joy to read. This book will ring true for anyone who has grown up in a small town, where truth is always stranger than fiction."
—
Debbie Taylor, Book Buyer, Sherman's Book Stores, Maine
"Refreshing . . . A piercingly knowing portrait of the complicated thoughts and actions of a maturing teenage girl . . . with a one-of-a-kind setting and dialect straight from the shore." —David Svenson,
Portland Monthly
"Incredibly detailed, rich and real…You will find yourself drawn into this book quickly and fiercely." —Katy England, The Maine Edge
"The young, prickly, and thoroughly endearing narrator of
Red Ruby Heart in a Cold Blue Sea
got to me in a big way. Not since
Ellen Foster
have I rooted so hard for a fictional girl, whose losses, while deep and abiding, show us what she's made of. I loved spending time with Florine, and I'm still thinking about her. She will break your heart and make you glad she did." —Monica Wood, author of
Any Bitter Thing
"At once very personal and very broad in theme and atmosphere,
Red Ruby Heart
is a lovely novel, long on heart. Morgan Callan Rogers has a confident, almost playful prose style, and she bears down on this story from the first paragraph, never faltering in her mission to convey her characters and their painful paths with honesty, compassion, and humor." —Susanna Daniel, author of
Stiltsville
"
Red Ruby Heart in a Cold Blue Sea
spun me deep inside its feisty, honest heroine, Florine. A classic story of paradise lost, this is a beautiful and wise coming-of-age story set on the Maine coast, where grief—harsh as the granite shoreline—is suffered, solaced and survived. I love this book, with its fresh-baked bread, stars and waves, wind-worn houses, mysteries and truths. A wonderful first novel." —Beth Powning, author of
The Sea Captain's Wife
"A heartwarming 'coming-of-age-story' set in what is arguably the continent's most beautiful location." —Ann La Farge, Hudson Valley News
"Readers who enjoy coming-of-age tales and small-town stories will appreciate this well-crafted debut novel that tugs at the heart without falling into sentimentality." —Jan Blodgett,
Library Journal
"It's the Maine voices that carry this book and make it an authentic page turner: fishermen and the women who love them, as well as a younger generation of girls and boys on the coast who skip town as soon as they get their diplomas. Rogers captures this era of Elvis records and small-town Maine fishing life so vividly that you may wish you'd grown up here." —Susan Conley, Down East
"I read it straight through and flipped over it. Florine's voice is pitch perfect throughout, and the story is both poignant and heart-warming. I love the three-dimensionality of the characters—no pure bad guys or good guys. I love all the Maine stuff, the distinctions between the summer people and the year-rounders of course rang bells. Loved Grand, loved the father, was so happy and relieved that in the middle of all that loss, Bud and Florine found each other. Oh, and I just loved the food: bread, apple pie, mac and cheese, beef stroganoff, Stella's 'gourmet' cooking—both mouthwatering in the descriptions and adding another layer to the you-are-what-you-eat characters. Please convey to the author my profound admiration and my delight that she's a fellow Mainer. And to you, huge thanks for introducing me to such a writer. I'll look forward to her next." —Mameve Medwed, author of Of Men and Their Mothers