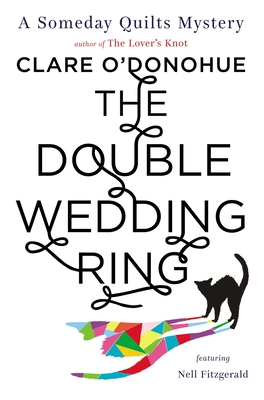 The Double Wedding Ring
A Someday Quilts Mystery Featuring Nell Fitzgerald
Paperback

* Individual store prices may vary.
Description
It's murder before marriage in book five of the Someday Quilts series

Nell's future is on her mind, and it looks as though the pieces are coming together like a perfectly made quilt. Her relationship with police chief Jesse Dewalt is heating up, she's thinking of starting her own business, and Grandma Eleanor, is about to get hitched.  But just the future seems sewn up, Jesse's former NYPD partner turns up—dead. Nell has to scramble to keep the wedding on track, her relationship from falling apart, and herself from being the target of a stranger with a secret. The Double Wedding Ring has romance, murder and a modern cozy feel… everything fans of the Someday Quilts series have come to love.
Praise For The Double Wedding Ring: A Someday Quilts Mystery Featuring Nell Fitzgerald…
Praise for THE LOVER'S KNOT:"Clare's first book is a fun read for those who love mysteries, romance and of course quilting! Her twists and turns in the story line make this a delightful escape."—Alex Anderson, co-host of "The Quilt Show", host of "Simply Quilts"

"A stitch above most craft cozies…" —Publishers Weekly

"O'Donohue debuts her Someday Quilts Mystery series with a promising story about women's friendships and quilting. It is a pleasant, even a gentle read—except for the cheating boyfriend and the murder." —Booklist

"…Fans and those who enjoy Monica Ferris's knitting mysteries will snap this up. Not to be missed." —Library Journal

Praise for A DRUNKARD'S PATH:

"O'Donohue deftly weaves clever crime-solving with valuable quilting tips."—Publishers Weekly

"O'Donohue aims to make those who love quilts feel right at home." —Kirkus

"O'Donohue crafts a plot with all the twists and turns of the drunkard's path quilt. But fear not—if you don't quilt you will still enjoy this light-hearted mystery."—Iloveamystery.com

"It's easy to get wrapped up in Nell's story.  Charming."—reviewingtheevidence.com

"Clare O'Donohue's Someday Quilts mysteries are as intricate and magical as a real quilt. For anyone who loves a mystery or just a good story about art and quilting, A Drunkard's Path is the perfect read to snuggle up with."—BookLoons.com

"A captivating mystery, well told."—Mysteriousreviews.com

Praise for THE DOUBLE CROSS:

"A wealth of quilting information for readers so inclined. Like its predecessors, it's a fine piece of work."—Richmond Times Dispatch

"A delightful cozy, a mystery to be sure, but also a study of relationships. Nell [Fitzgerald is] as interesting and unique a character as any quilt. The mystery is enjoyable, but it's the appealing characters—their friendships and romantic relationships—that set this series apart from its peers."—Mysterious reviews.com

"Interesting mix of characters. O'Donohue manages to keep all the threads interesting and the tension just high enough to keep you turning the pages. The Double Cross makes the point that cozy craft mysteries don't lack for high tension and an exciting conclusion."—Gumshoe review

"I have greatly enjoyed Clare O'Donohue's first two Someday Quilts mysteries, but The Double Cross is by far my favorite. The Double Cross proves that old fashioned mysteries are not dead."—BookLoons.com

"A knotty new Nell Fitzgerald mystery in the series that's beguiling cozy fans and quilters alike. A fast, warm read best enjoyed while wrapped in a handmade quilt on a blustery fall day"—Monsters and Critics.com

Praise for THE DEVIL'S PUZZLE:

"A modern day Jane Marple on steroids."—Suspense magazine

"Quilting details, a sharp picture of small-town life, likeable characters, and two appealing romantic relationships add to the enjoyment of this mainstream cozy mystery."—Booklist

"A haven for those who love a good mystery as well as the history and colorful ambiance involved the craft of quilting.  A good story with a dash of romance."—Bookpage

"A great cozy mystery."—Parkersburg News and Sentinel

"A clever whodunit with a slew of suspects, amiable characters, a wealth of local color, and a generous helping of quilting."—Richmond Times Dispatch
Plume, 9780452298798, 272pp.
Publication Date: September 24, 2013
About the Author
Clare O'Donohue is a novelist and a freelance television writer and producer. She lives in Chicago.
or
Not Currently Available for Direct Purchase