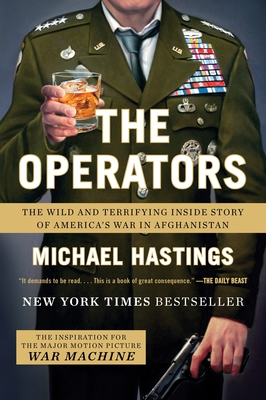 The Operators (Paperback)
The Wild and Terrifying Inside Story of America's War in Afghanistan
Plume, 9780452298965, 432pp.
Publication Date: November 27, 2012
Other Editions of This Title:
Digital Audiobook (1/22/2012)
Hardcover (6/1/2011)
Pre-Recorded Audio Player (3/1/2012)
Compact Disc (1/23/2012)
Paperback (2/1/2013)
MP3 CD (1/23/2012)
Paperback (6/1/2011)
Hardcover (6/1/2011)
Hardcover, Large Print, Large Print (6/1/2011)
Paperback (2/1/2012)
Compact Disc (1/23/2012)
* Individual store prices may vary.
Description
The inspiration for the Netflix original movie War Machine, starring Brad Pitt, Tilda Swinton, and Ben Kingsley

From the author of The Last Magazine, a shocking behind-the-scenes portrait of our military commanders, their high-stake maneuvers, and the political firestorm that shook the United States.

In the shadow of the hunt for Bin Laden and the United States' involvement in the Middle East, General Stanley McChrystal, the commanding general of international and U.S. forces in Afghanistan, was living large. His loyal staff liked to call him a "rock star." During a spring 2010 trip, journalist Michael Hastings looked on as McChrystal and his staff let off steam, partying and openly bashing the Obama administration. When Hastings's article appeared in Rolling Stone, it set off a political firestorm: McChrystal was unceremoniously fired.

In The Operators, Hastings picks up where his Rolling Stone coup ended. From patrol missions in the Afghan hinterlands to senior military advisors' late-night bull sessions to hotel bars where spies and expensive hookers participate in nation-building, Hastings presents a shocking behind-the-scenes portrait of what he fears is an unwinnable war.  Written in prose that is at once eye-opening and other times uncannily conversational, readers of No Easy Day will take to Hastings' unyielding first-hand account of the Afghan War and its cast of players.
About the Author
Michael Hastings was a contributing editor to Rolling Stone and a correspondent at large for BuzzFeed. Before that he worked for Newsweek, where he rose to prominence covering the wars in Iraq and Afghanistan. He was the recipient of the 2010 George Polk Award for his Rolling Stone magazine story The Runaway General. Hastings was the author of three books, I Lost My Love in Baghdad, Panic 2012, The Operators, and The Last Magazine. He died in 2013, and was posthumously honored with the Norman Mailer Award for Emerging Journalist.
Praise For The Operators: The Wild and Terrifying Inside Story of America's War in Afghanistan…
"An impressive feat of journalism by a Washington outsider who seemed to know more about what was going on in Washington than most insiders did."—The New York Times

"Hastings has written the funniest book I have read on the war and the US presence in Afghanistan--and it's not easy being funny about Afghanistan or the US Army. The last time someone tried it was in the 1980s, when P.J. O'Rourke wrote hilarious pieces—also for Rolling Stone—about the Mujahideen in Peshawar and later the Taliban…. Hastings's sense of humor is sly, cynical, and disrespectful, but it is honest....Hastings is an American kind of dissident. "—Ahmed Rashid, The New York Review of Books

"Superb…One of the most eye-opening accounts…from one of the bravest and most intrepid journalists."—Salon.com

"It demands to be read…this is a book of great consequence, not a pop-culture puff piece, which some of its deriders claim it is. The Operators seems destined to join the pantheon of the best of GWOT literature, not just for its rock-and-roll details, but for its piercing chronicles of a world gone mad."—The Daily Beast

"Brings a fresh eye and a brutally authentic voice to America's decade-old misadventure in Afghanistan."—Los Angeles Times

or
Not Currently Available for Direct Purchase