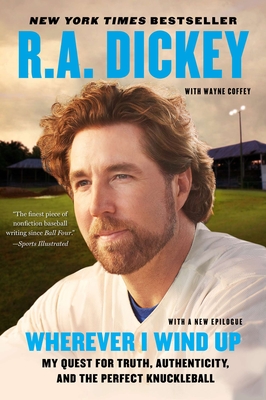 Wherever I Wind Up
My Quest for Truth, Authenticity, and the Perfect Knuckleball
Paperback

* Individual store prices may vary.
Other Editions of This Title:
Digital Audiobook (8/14/2012)
Description
The perfect gift for baseball fans, now with a new epilogue by author R.A. Dickey, winner of the 2012 Cy Young award. 

"An astounding memoir—haunting and touching, courageous and wise."—Jeremy Schaap, bestselling author, Emmy award-winning journalist, ESPN

In 1996, R.A. Dickey was the Texas Rangers' much-heralded No. 1 draft choice. Then, a routine physical revealed that his right elbow was missing its ulnar collateral ligament, and his lifelong dream—along with his $810,000 signing bonus—was ripped away. Yet, despite twice being consigned to baseball's scrap heap, Dickey battled back. Sustained by his Christian faith, the love of his wife and children, and a relentless quest for self-awareness, Dickey is now the starting pitcher for the Toronoto Blue Jays (he was previously a star pitcher for the New York Mets) and one of the National League's premier players, as well as the winner of the 2012 Cy Young award.

In Wherever I Wind Up, Dickey eloquently shares his quintessentially American tale of overcoming extraordinary odds to achieve a game, a career, and a life unlike any other.
Praise For Wherever I Wind Up: My Quest for Truth, Authenticity, and the Perfect Knuckleball…
"It's a gripping memoir, a brutally honest account of family woes, childhood abuse and his failures as a husband and father. But it's also a meditation on contemporary baseball that is insightful without throwing anyone under the bus, save the author himself. (And maybe Alex Rodriguez.) It might be the finest piece of nonfiction baseball writing since Ball Four. Perhaps above all, it's a classic epic quest, a flawed hero's unlikely odyssey to the major leagues and to discovering the mystical pitch that helped him get there."—Jon Wertheim, Sports Illustrated

"R.A. Dickey is one of the coolest athletes I've ever met—a great mixture of soul and intellect. He wanted to write his own book with the same passion he brings to his knuckleball or working the heart of the dugout between starts. This is an athlete worth knowing better."—George Vescy, New York Times

"R.A. Dickey has a baseball story that is unlike anybody else's. If every player had his character, work ethic, and makeup, it would put a lot of managers and coaches out of work, because there would be no need for them."—Buck Showalter, manager of the Baltimore Orioles

"MLB's only active knuckleballer boasts a story compelling enough to be told forthwith…. Dickey credits his faith with overcoming myriad trials both personal and professional, but it never feels as if he's preaching. Once an English-lit major and now a starting pitcher for the New York Mets, the author emerges as one of baseball's good guys, and someone who can write as well as he pitches. Dickey has set a new standard for athlete autobiographies."—Publishers Weekly, starred review

"An astounding memoir—haunting and touching, courageous and wise."—Jeremy Schaap, bestselling author, Emmy award-winning journalist, ESPN

"Nobody in baseball has overcome more obstacles than R.A. Dickey, and nobody writes about them with more honesty and insight. R.A. doesn't want to be called a hero, but he is exactly that, and when you read about his life's journey and his courage, you will agree with me. This is an awesome book by an awesome man."—Orel Hershiser, ESPN Sunday Night Baseball analyst, former MLB All-Star

"A wonderful and powerful new memoir."—Jim Caple, ESPN

"I can't recommend Wherever I Wind Up enough."—Gary Cohen, SportsNet NY (SNY)

"R.A. Dickey's book is unlike any other professional athlete's autobiography you have ever read. And that is a very good thing."—Mike Bauman, MLB.com
Plume, 9780452299016, 368pp.
Publication Date: March 26, 2013
About the Author
R.A. Dickey of the Toronto Blue Jays is one of the premier pitchers in baseball.  In 2012 while playing for the New York Mets, he became the first knuckleballer to win the National League Cy Young Award, major league baseball's highest honor for a pitcher.  He has also written for the New York Times and is working on a young adult edition of Wherever I Wind Up and two children's books. When not on the road with his team, Dickey lives in Tennessee with his wife and four children.

Wayne Coffey is an award-winning journalist for the New York Daily News and the author of more than thirty books, including The Boys of Winter, a New York Times bestselling chronicle of the 1980 U.S. Olympic hockey team. A three-time Pulitzer nominee, he has long been regarded as one of best sports feature writers in the nation.