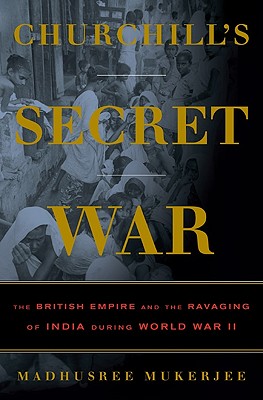 Churchill's Secret War: The British Empire and the Ravaging of India during World War II (Hardcover)
The British Empire and the Ravaging of India during World War II
Basic Books, 9780465002016, 368pp.
Publication Date: August 1, 2010
* Individual store prices may vary.
or
Not Currently Available for Direct Purchase
Description
A bracing narrative of wartime India and the tremendous famine that resulted when Churchill sacrificed the lives of four million Bengalis to win World War II
About the Author
Madhusree Mukerjee won a Guggenheim fellowship to write her previous book, The Land of Naked People. She has served on the board of editors of Scientific American. She lives near Frankfurt, Germany.
Praise For Churchill's Secret War: The British Empire and the Ravaging of India during World War II…
Ramachandra Guha, author of India after Gandhi
"Winston Churchill's dislike of India and Indians has been known to scholars. But now, in Churchill's Secret War, we have, for the first time, definitive evidence of how a great man's prejudices contributed to one of the most deadly famines in modern history. In her book, Madhusree Mukerjee writes evocatively of how hunger and rebellion in rural Bengal was a product of cynicism and callousness in imperial London. Deeply researched and skillfully constructed, this is a major contribution to Indian history and to the history of the Second World War."

Mike Davis, Professor of Creative Writing at University of California–Riverside
"An epic indictment of British policies that cold-bloodedly caused the death of millions of ordinary Indians during the Second World War. With impeccable research, Mukerjee debunks the conventional hagiography of Churchill, showing 'the last imperialist's' monstrous indifference to the peoples of the sub- continent."

John Horgan, Director, Center for Science Writings, Stevens Institute of Technology
"Churchill's Secret War is a major work of historical scholarship, which reveals that one of the 20th century's greatest heroes was also one of its greatest villains. Mukerjee's elegant, precise prose and meticulous research make her tale of colonial brutality all the more gripping and horrific."

Kirkus
"An important though uncomfortable lesson for readers who think they know the heroes and villains of World War II."

Publishers Weekly
""[W]ell-researched…This gripping account of historical tragedy is a useful corrective to fashionable theories of benign imperial rule, arguing that a brutal rapaciousness was the very soul of the Raj."
Providence Journal"A clearly written and well-researched study…Mukerjee writes with a careful hand, avoiding an easily dismissible rant and smartly allowing Churchill's closet advisors to color in the dark details."

Roll Call"Mukerjee's work is an important tool in repudiating the dominant legacy of Churchill."
Indian Express (India)"[Mukerjee's] main point comes through persuasively…never has anything quite this persuasive demonstrated how devastating for the world were Churchill's personal failings."
The Independent (UK)"Mukerjee has researched this forgotten holocaust with great care and forensic rigor…Her calmly phrased but searing account of imperial brutality will shame admirers of the Greatest Briton and horrify just about everybody else.
Sunday Times (UK)"[A] significant and – to British readers – distressing book…the broad thrust of Mukerjee's book is as sound as it shocking."
Washington Times"Churchill's Secret War is a disturbing read, and one that I recommend." Time"Madhusree Mukerjee's new book, Churchill's Secret War, reveals a side of Churchill largely ignored by the West and considerably tarnishes his heroic sheen…Mukerjee's book depicts a truth more awful than any fiction." Time Out for Entertainment"Mukerjee makes [her] points with a skill and scholarship that are convincing, making the reader see an episode of World War II with new eyes and new sympathy." Asian Review of Books
"A vivid account of the subject…Churchill's Secret War is a book that needs to be read."
New York Review of Books
"Mukerjee not only writes well, she writes from a point of view that most Bengalis and many Indians would share…her book should be welcomed as a serious attempt to deal in all its aspects with a neglected catastrophe in an era of catastrophes piled grotesquely one on top of another."
New York Times Book Review"[Mukerjee] sharpens her point by drawing provocative analogies…Churchill's Secret War is convincing." Choice "[Mukerjee] seeks…to give a voice to a people without a history…Recommended."
Advertisement