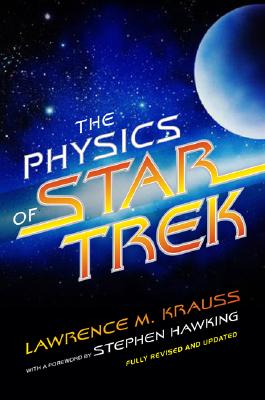 The Physics of Star Trek (Paperback)
Basic Books, 9780465002047, 280pp.
Publication Date: July 10, 2007
* Individual store prices may vary.
Description
How does the Star Trek universe stack up against the real universe?
What warps when you're traveling at warp speed? What is the difference between a wormhole and a black hole? Are time loops really possible, and can I kill my grandmother before I am born? Anyone who has ever wondered "could this really happen?" will gain useful insights into the Star Trek universe (and, incidentally, the real world of physics) in this charming and accessible guide. Lawrence M. Krauss boldly goes where Star Trek has gone-and beyond. From Newton to Hawking, from Einstein to Feynman, from Kirk to Picard, Krauss leads readers on a voyage to the world of physics as we now know it and as it might one day be.
About the Author
Lawrence Krauss is director of the Origins Project at Arizona State University. He is the author of more than 300 scientific publications and ten books, including A Universe from Nothing and The Greatest Story Ever Told -So Far. Krauss is a fellow of the American Physical Society and the American Association for the Advancement of Science. He is a regular columnist for newspapers and magazines, including The New Yorker, and he appears frequently on radio, television, and in feature films. Krauss lives in Portland, Oregon, and Tempe, Arizona.
Praise For The Physics of Star Trek…
"The essential tubeside companion for the fans of the venerable Star Trek series."—Washington Post

"This book is fun...Krauss is always enlightening."—New York Times Book Review

What makes Krauss's book a winner is that it provides a pulpit for a thoughtful sermon on the possibilities locked in a universe that might or might not include a planet called Vulcan and a language called Klingon but that certainly could - in theory - deliver an antigravitational force called vacuum energy.—The Guardian

"A fascinating way to learn more about physics."—St. Petersburg Times

"One of the year's best gifts for a science-fiction fan."—Cleveland Plain Dealer

"The Physics of Star Trek is a fun, readable little book by an eminent physicist that boldly goes where few serious scientists have ever gone before."—Tampa Tribune

Even those who have never watched an episode of Star Trek will be entertained and enlightened by theoretical physicist Krauss's adventurous investigation of interstellar flight, time travel, teleportation of objects and the possibility of extraterrestrial life.—Publishers Weekly