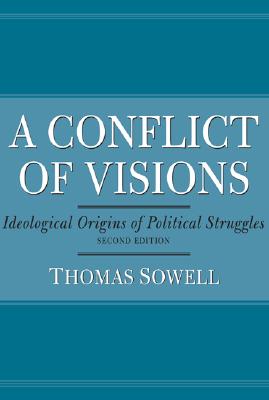 A Conflict of Visions (Paperback)
Ideological Origins of Political Struggles
Basic Books, 9780465002054, 352pp.
Publication Date: June 5, 2007
Other Editions of This Title:
MP3 CD (4/20/2011)
Paperback (1/1/2002)
Audio Cassette (4/1/2011)
Paperback (4/1/1988)
Compact Disc (4/20/2011)
Compact Disc (4/1/2013)
* Individual store prices may vary.
Description
Thomas Sowell's classic analysis of the opposing visions behind today's ethical and ideological disputes
Controversies in politics arise from many sources, but the conflicts that endure for generations or centuries show a remarkably consistent pattern. This revised edition of a classic analyzes the centuries-long debates about the nature of reason, justice, equality, and power. It distinguishes between those with the "constrained" vision, which sees human nature as enduring and self-centered, and the "unconstrained" vision, in which human nature is malleable and perfectible. A Conflict of Visions offers a compelling case that these opposing visions are behind the ethical and ideological disputes of yesterday and today.
About the Author
Thomas Sowell is a Senior Fellow at the Hoover Institution, Stanford University. He is the author of dozens of books and the recipient of various awards, including the National Humanities Medal, Presented by the President of the United States in 2003.
Praise For A Conflict of Visions: Ideological Origins of Political Struggles…
"Extraordinary on several counts...[Sowell] makes his case fairly, lucidly and persuasively."—The New York Times Book Review

"A classic of a very special kind...Reading [it] is like looking up at the night sky and discovering a new constellation."—Christian Science Monitor

"[A Conflict of Visions] is recommended herewith to anybody sufficiently interested in the American condition to try to get beneath the surface of partisanship, trendy issues and pop ideology to the philosophical foundations of the Republic."—Boston Globe

"[A] fine book ... Sowell's illuminating guide to the political conflicts of our age teaches the valuable lesson that political choices always involve costs."—Commentary

"An excellent condensation of two centuries of social thought."—Booklist

"A provocative analysis of the conflicting visions of human nature that have shaped the moral, legal and economic life of recent times."—Publishers Weekly