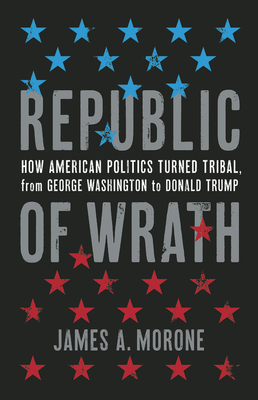 Republic of Wrath
How American Politics Turned Tribal, From George Washington to Donald Trump
Hardcover

* Individual store prices may vary.
Description
A prize-winning political scientist untangles the deep roots of tribalism in America.
American politics seems to be in an unprecedented uproar. But in this revelatory work of political history, James A. Morone shows that today's rancor isn't what's new -- the clarity of the battle lines is. Past eras were full of discord, but the most contentious question in American society -- Who are we? -- never split along party lines.
Instead, each party reached out to different groups on the margins of power: immigrants, African Americans, and women. But, as the United States underwent profound societal transformations from the Civil War to the populist explosion to the Great Migration to civil rights to the latest era of immigration, the party alignment shifted. African Americans conquered the old segregationist party and Democrats slowly evolved into the party of civil rights, immigration, and gender rights. Republicans turned whiter and more nativist. The unprecedented party lineup now injects tribal intensity into every policy difference.
Republic of Wrath tells the story of America as we've never heard it before, explaining the origins of our fractious times and suggesting how we might build a more robust republic.
Praise For Republic of Wrath: How American Politics Turned Tribal, From George Washington to Donald Trump…
"James A. Morone's
Republic of Wrath
offers a fresh theory to an already sizable pile of explanations for the dismal state of our politics."—
New York Times
"Morone marshals a vast amount of information into a brisk, accessible narrative, and draws illuminating contrasts between past and present.... This nuanced and richly detailed account offers essential perspective ahead of the 2020 election."
—
Publishers Weekly
"A brilliant exposé of the uglier undercurrents of American political history."
—
Kirkus
"With deep learning, uncommon historical range, and a vibrant analytical voice, James Morone displays how contentious party divisions in the United States have long been charged by outrage about race, immigration, and gender. What is new, his
Republic of Wrath
persuasively explains, is how political barriers that divide configurations of passion about identity presently have become ever more absolute."—
Ira Katznelson, author of Fear Itself: The New Deal and the Origins of Our Time
"James Morone has written a grand, eloquent, and consistently insightful narrative of the conflicts over race and immigration that have always been central to politics and governance in the United States.
Republic of Wrath
is an essential book for anyone who wants to understand the deepest and darkest sources of our partisan discontents."—
Michael Kazin, author of The Populist Persuasion: An American History
"
Republic of Wrath
is both a valuable historical survey and an important intervention at a pregnant political moment. Both our historical memories and our current debates will benefit from the lessons it teaches."—
Eric Alterman, author of Lying in State
"I am among many who rely on Jim Morone to offer insightful and provocative perspectives on our politics and history by way of pushing us to be better -- more open to each other, more democratic in our practice, more honest about our problems. In
Republic of Wrath
, he does it again with great candor about our enduring struggles over racial injustice and immigration. And his solution to the problems of democracy is real democracy in which everyone can vote without obstruction under fair rules -- and in which partisans who don't pretend to be anti-partisan but rather embrace their principles and 'take them to the voters.' A refreshing take on the way forward."—
E. J. Dionne Jr., author of Code Red: How Progressives and Moderates Can Unite to Save Our Country
"Want to know why partisan tribalism has gotten so bad, and why the Republican Party, in particular, has embraced division and attacked democracy? Read
Republic of Wrath
. Combining history and political science within a gripping narrative, James Morone shows how enduring cleavages -- black vs. white, native vs. immigrant -- have become dangerously revivified in the present era."—
Jacob S. Hacker, coauthor of Let Them Eat Tweets: How the Right Rules in an Age of Extreme Inequality
Basic Books, 9780465002443, 432pp.
Publication Date: September 8, 2020
About the Author
James A. Morone is the John Hazen White professor of political science and public policy at Brown University. He is author of two New York Times notable books and the award-winning Hellfire Nation: The Politics of Sin in American History. He lives in Cambridge, Massachusetts.