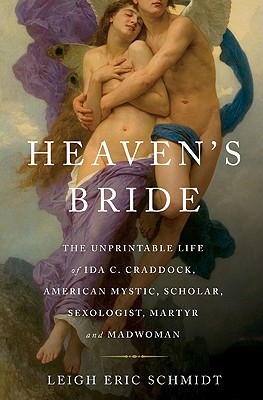 Heaven's Bride (Hardcover)
The Unprintable Life of Ida C. Craddock, American Mystic, Scholar, Sexologist, Martyr, and Madwoman
Basic Books, 9780465002986, 352pp.
Publication Date: December 7, 2010
* Individual store prices may vary.
Description
The nineteenth-century eccentric Ida C. Craddock was by turns a secular freethinker, a religious visionary, a civil-liberties advocate, and a resolute defender of belly-dancing. Arrested and tried repeatedly on obscenity charges, she was deemed a danger to public morality for her candor about sexuality. By the end of her life Craddock, the nemesis of the notorious vice crusader Anthony Comstock, had become a favorite of free-speech defenders and women's rights activists. She soon became as well the case-history darling of one of America's earliest and most determined Freudians.
In Heaven's Bride, prize-winning historian Leigh Eric Schmidt offers a rich biography of this forgotten mystic, who occupied the seemingly incongruous roles of yoga priestess, suppressed sexologist, and suspected madwoman. In Schmidt's evocative telling, Craddock's story reveals the beginning of the end of Christian America, a harbinger of spiritual variety and sexual revolution.
About the Author
Leigh Eric Schmidt is Charles Warren Professor of American Religious History at Harvard University, and the author of numerous books, including Restless Souls and Consumer Rites. He lives in Belmont, Massachusetts.
Praise For Heaven's Bride: The Unprintable Life of Ida C. Craddock, American Mystic, Scholar, Sexologist, Martyr, and Madwoman…
Robert Orsi, Professor of Religious Studies and History at Northwestern University
"In this compelling and exciting biography of an extraordinary woman, Leigh Eric Schmidt shows that liberal religion was fundamental to the making of modern American sexuality. Ida C. Craddock battled fiercely and paid dearly for her vision that sexuality and spirituality, pleasure and piety, were intimately connected, both in ancient religions and in contemporary experience. The story Schmidt tells has striking contemporary resonance—the struggle for a more open and inclusive sexual ethic has always been a religious one in American culture. This elegantly written, deeply researched book is a great and timely contribution to current public debates and to the history of American sexuality by one of America's leading religious historians."
Stefanie Syman, author of The Subtle Body: The Story of Yoga in America
"
Heaven's Bride
is a lucid and moving account of a woman whose vision—of sacred sex and gender equality—exposed the fault lines of American liberalism. It's also a poignant reminder that our constitutionally guaranteed division of church and state has needed constant and energetic defense."
Publishers Weekly (starred review)
"Schmidt illuminates the darkened life of Ida Craddock by aiming a spotlight at each subtitled role."
Ann Taves, Professor of Religious Studies, University of California at Santa Barbara
"Leigh Schmidt offers us a compulsively readable account of the tragic, fantastic, and utterly idiosyncratic life of Ira Craddock, self-taught scholar, mystic, sex reformer, and psychoanalytic subject.  Sympathetic toward Craddock, yet even-handed in his treatment of both her admirers and her vehemently critical detractors, Schmidt opens a window on the fierce ideological cross-currents at the intersection of sexuality, psychology, and religion at the turn of the last century. This is serious scholarship in a form that everyone can enjoy."

Kathi Kern, author of Mrs. Stanton's Bible
"With a novelist's grace, Leigh Schmidt tells the absorbing, astonishing, and long-forgotten story of Ida C. Craddock, religious seeker and sex radical. Through Craddock's life, Schmidt restores the spiritual pulse to the sexual revolution of the early twentieth-century. Heaven's Bride is a masterful contribution to the entwined history of religion, sexuality and American reform."



Courtney Bender, Associate Professor of Religion at Columbia University
"Schmidt's lyrical, compelling, and captivating story of a truly unique American religious experimenter is a rare gift. In Heaven's Bride, Craddock's sometimes amusing, often tragic interactions with bellydancers, vice informants, the police, asylums, freethinkers, scholars, mystics (and even a disapproving mother and a range of spirit friends) come to life, and provide a window into the unsettledness of American religious life one century ago. Yet Craddock's story is much more than an entertaining and tragic narrative. In Schmidt's story, Craddock's refusal to live within the social boundaries taking shape around her and the consequences that she suffered expose the enormous and often violent efforts that have been required to solidify the distinctions that modern Americans take to be self evident. For all those readers think they know the difference between science and religion, mysticism and sexuality, amateurs and experts, psychosis and devotion, Craddock's life – and Schmidt's analysis – presents perspicuous challenges. This enormously fascinating book inspires and unsettles, prompting 'curiosities and hopes and suspicions all in equal measure.' Miss Ida C. Craddock would be pleased."



Richard Fox, Professor of History, University of Southern California, and author of Jesus in America: Personal Savior, Cultural Hero, National Obsession
"No other scholar of American culture ranges as widely and deeply across so many thematic frontiers as Leigh Eric Schmidt.  In this gripping tale of Ida C. Craddock's edgy frontier crossings he shows his mastery of the borderlands between science and religion, secularity and faith.  Readers will blink in wonder at the worldly inventiveness and mystical vision of this long forgotten American original."



Martin Garbus, First Amendment lawyer and author of The Next Twenty Five Years
"In Heaven's Bride Leigh Eric Schmidt has done an admirable job of rescuing the remarkable Ida C. Craddock from the ashes of history and places her before us in her full glory: a brilliant autodidact, a sexual researcher, writer of sex manuals, and wife of an angel named Soph. Craddock is a classic American iconoclast in the spirit of Walt Whitman and her fascinating story is far-reaching, touching on abuses of free speech, early feminism, and America's still-ongoing obsession with sex and purity."

Michael Kazin, author of A Godly Hero: The Life of William Jennings Bryan and professor of history at Georgetown University
"Leigh Eric Schmidt has written not just an enthralling biography of a remarkable woman who both defied and honored Victorian sexual conventions. In delicious prose, he lays bare the search for spiritual fulfillment that gripped millions of Americans in the Gilded Age."



Jeffrey J. Kripal, J. Newton Rayzor Professor of Religious Studies, Rice University, and author of Authors of the Impossible: The Paranormal and the Sacred
"The life and work of Ida C. Craddock show all the signs of a genuine erotic mysticism, as profound as any in the history of religions.  Her attempts to express the full measure of this love—from secularism and religious liberalism, through psychical research, British occultism, and Indian Tantra, to marriage reform, sexology, and women's rights—were as diverse and as passionate as the censorship campaigns, familial condemnations, criminal prosecutions, and mental pathologizing that finally silenced her.  Leigh Eric Schmidt, with his trademark erudition, balance, and humor, has effectively resurrected Ida for us from all of this cruelty.  She speaks again.  This is historical scholarship at its most liberating and most redeeming."

Nancy F. Cott, Trumbull Professor of American History at Harvard University
"The mix of madness and method in Ida Craddock's extraordinary life makes for a rollicking read, amplified by exactingly researched context. Was she a century ahead of her time? You decide."


or
Not Currently Available for Direct Purchase