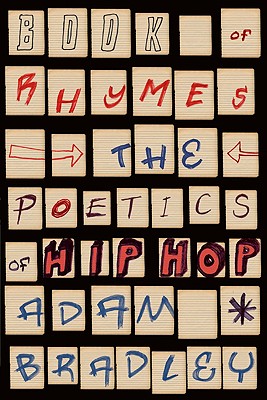 Book of Rhymes: The Poetics of Hip Hop (Paperback)
The Poetics of Hip Hop
Basic Civitas Books, 9780465003471, 248pp.
Publication Date: March 1, 2009
Description
If asked to list the greatest innovators of modern American poetry, few of us would think to include Jay-Z or Eminem in their number. And yet hip hop is the source of some of the most exciting developments in verse today. The media uproar in response to its controversial lyrical content has obscured hip hop's revolution of poetic craft and experience: Only in rap music can the beat of a song render poetic meter audible, allowing an MC's wordplay to move a club-full of eager listeners.
Examining rap history's most memorable lyricists and their inimitable techniques, literary scholar Adam Bradley argues that we must understand rap as poetry or miss the vanguard of poetry today. Book of Rhymes explores America's least understood poets, unpacking their surprisingly complex craft, and according rap poetry the respect it deserves.
About the Author
Adam Bradley is a professor of English at the University of Colorado Boulder where he directs the Laboratory for Race & Popular Culture (RAP Lab). His commentary has appeared in the New York Times, the Wall Street Journal, the Washington Post, and many other publications. He is the author or editor of six books, including The Anthology of Rap, The Poetry of Pop, and the New York Times bestseller One Day It'll All Make Sense. Bradley lives in Boulder, Colorado.
Praise For Book of Rhymes: The Poetics of Hip Hop…
Boston Globe
"[Bradley] lays out a nuanced, academically rigorous argument that the best hip-hop deserves attention as genuine artistry…He traces the word rhythm from the Greek rheo, or flow. Biggie had flow; Jay-Z has flow. For an English professor, Adam Bradley got some flow of his own."

Dallas Morning News
"Excellent…Where so many hip-hop studies lean heavily on politics and sociology, Book of Rhymes is a welcome and thorough exploration of rap aesthetics that isn't afraid to be learned."
Henry Louis Gates, Jr.
"As comfortable in the company of Jay-Z as he is with John Donne, Adam Bradley is a visionary critic, skillful and wise. His Book of Rhymes is a tour de force, brilliantly renovating hip hop criticism as he rescues the forgotten vanguard of American poetry."
Cornel West
"Adam Bradley's Book of Rhymes is a marvelous exploration into the poetic genius of rap and the cultural gravity of Hip Hop. His analysis is subtle, sophisticated, and soulful!"
Jeff Chang, editor, Total Chaos: The Art and Aesthetics of Hip-Hop
"Where some hear noise, Adam Bradley hears the past and future of poetics. With taste, precision, and style, Book of Rhymes explains the art of rap in ways as bold, lyrical, and imaginative as the art form itself. Heads and theorists will find much to love and argue with in this fine work."
Schoolly D
"All I can say is wow—it was like somebody was reading my mind. So many books have been written about hip hop's history—that time and that magic—but if you don't get it from reading Book of Rhymes, then you're just not going to get it."
Junot Díaz, Pulitzer Prize-winning author of The Brief Wondrous Life of Oscar Wao
"Bradley delivers the intellectual dynamite with this astonishingly researched, passionately argued glove-across-the-face challenge to traditional hip hop scholarship. Superb on every level, a revelation and a joy to read."

ColorLines
"Bradley's book is ultimately successful, with a readable text that can engage diehard hip-hop heads, conventional poetry buffs or any combination of the two."
Advertisement