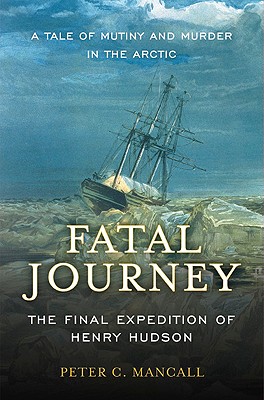 Fatal Journey (Hardcover)
The Final Expedition of Henry Hudson
Basic Books, 9780465005116, 320pp.
Publication Date: June 1, 2009
Other Editions of This Title:
Paperback (9/28/2010)
* Individual store prices may vary.
Description
From an acclaimed historian, the tale of Henry Hudson's final voyage in search of the Northwest Passage—and the unsolved mystery surrounding his death
About the Author
Peter C. Mancall is Professor of History and Anthropology at the University of Southern California, as well as Director of the USC-Huntington Early Modern Studies Institute. He is the author of Hakluyt's Promise and At the Edge of Empire. He lives in Los Angeles.
Praise For Fatal Journey: The Final Expedition of Henry Hudson…
Booklist
"Mancall's account of the doomed voyage is exciting, tense, and tragic…. This is an excellent re-examination of [Hudson] and his final, sad effort."

Minneapolis Star Tribune
"[Mancall's] facility with primary sources is astounding. The story of Hudson's last voyage becomes, in his experienced hands, a lucid, fascinating lens into early Atlantic explorations. The book bristles with action, details about ship life, insight into British laws (the mutineers were found not guilty), and jaw-dropping accounts of encounters with Americans."
Seattle Times
"This is a story that stretches the imagination and leaves the reader with a shiver."
Las Cruces Sun-News
"Mancall [is] a master storyteller and historian…. Any reader of Dr. Mancall's account will be caught in an exciting adventure and overwhelming tragedy."
Washington Times
"Mr. Mancall writes with authority in tone and scholarship."
New York Post
"Rather than speculate, Mancall delivers the story of how Hudson's crusade put him on a collision course with his men…. But the story is perhaps most compelling in its descriptions of the Northern territory itself."
Washington Post
"[Fatal Journey] recounts the puzzling episode of a captain overthrown by an enraged faction of his own crew…. [A] short and dependable guide to what befell a great but flawed explorer."
Newark Star-Ledger
"For fans of Mutiny on the Bounty and The Caine Mutiny, Fatal Journey will only add to the store and lore of desperate actions on the high seas…. [Mancall] combines forensic history with pulsing narrative to achieve a highly credible account of how the mission unraveled."
Boston Globe
"Bracingly told."

Boston Globe
"Fatal Journey is a rich, exhilarating narrative of exploration, desperation, and ice-bound tragedy."

History Magazine
"Mancall places Hudson and the mutiny in the context of their age, a time when economic and cultural forces lured explorers and sailors into the dangers of a new world in search of profit and fame."

Arctic, Antarctic, and Alpine Research
"Mancall, in this fascinating account based on a great deal of research, provides a reasonable explanation of Hudson's likely fate, after probably surviving for a polar winter or two…. I recommended this excellent book to both armchair explorers and serious students of the history of the Arctic."

The Working Waterfront
"Fatal Journey is both poignant and tragic. Henry Hudson is presented as a dominating, unyielding captain, consumed with an Ahab-like obsession to seek a northern passage."
or
Not Currently Available for Direct Purchase