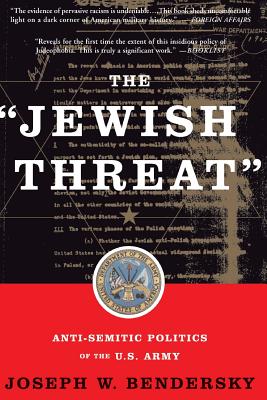 The Jewish Threat (Paperback)
Anti-semitic Politics Of The U.s. Army
Basic Books, 9780465006182, 560pp.
Publication Date: October 4, 2001
* Individual store prices may vary.
Description
Very little has been written about America's own history of anti-Semitism. In this shocking book, the first documented examination of anti-Semitism in an American governmental institution, Joseph Bendersky shows that such racism permeated the highest ranks of the U.S. military throughout the past century, having a very real effect on policy decisions. Through ten years of research in more than thirty-five archives, the author uncovered irrefutable evidence of endemic and virulent anti-Semitism throughout the Army Corps from the turn of the century right up to the 1970s. This fully developed and clearly articulated perspective had a direct effect on policy discussions and decisions, affecting such matters as immigration, refugees, military strategy, and the establishment of Israel. Written with novelistic intensity and attention to intriguing detail, The "Jewish Threat" forces us to revise some of our cherished notions about our country and its most revered leaders.
About the Author
Joseph W. Bendersky is Director of Graduate Studies in History at Virginia Commonwealth University.