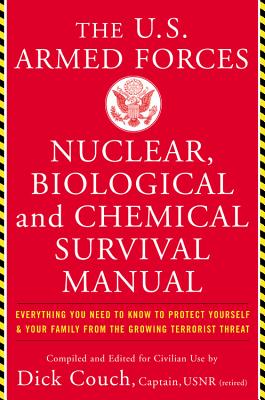 U.S. Armed Forces Nuclear, Biological And Chemical Survival Manual (Paperback)
Basic Books, 9780465007974, 256pp.
Publication Date: April 3, 2003
* Individual store prices may vary.
Description
Military experts teach you how to survive an attack on American soil, from North Korean missiles to weaponized smallpox

North Korean nukes. Dirty bombs in train stations. Chemical warfare. Americans have more reasons than ever to be afraid. If a nuclear missile strikes, will you know what to do? If a nerve agent is released in your subway system or office building, will you be safe?
The U.S. Armed Forces Nuclear, Biological and Chemical Survival Manual
gives you the information you need to survive a terrorist attack. It contains the best practices of all the United States' military services, adapted for the first time for civilian use. With this manual, you will be able to take action to protect your family and loved ones, whether you are just beginning to think about the possibility of attack, or are well along the path of equipping yourself against a nuclear, biological, or chemical strike.
Experts agree that it's only a matter of time before a rogue terrorist or an enemy nation breaks through our defenses. This handbook is the single most effective tool you can own to protect yourself and your family against the danger looming over our homeland.
This manual will show you how to:
Protect yourself during a chemical or biological attack
Recognize the indicators of nuclear, chemical and biological attack
Develop a simple and effective family action plan
Guard against the radiological effects of a dirty bomb
Assist victims of nuclear, chemical, or biological agents
Assemble and store the everyday materials that could save your life
About the Author
Dick Couch, Captain, U.S. Navy (retired), is a former Navy SEAL, combat veteran and CIA case officer. He is the author of four novels, SEAL Team One, Pressure Point, Silent Descent, and Rising Wind, and a nonfiction book on the training of navy SEALS, The Warrior Elite. An avid skier and fly fisherman, Dick and his wife, Julia, live in central Idaho.