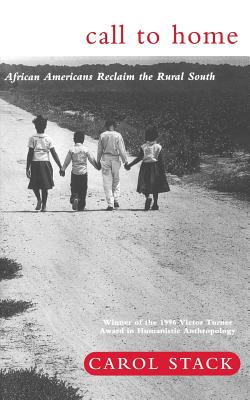 Call To Home (Paperback)
African-Americans Reclaim The Rural South
Basic Books, 9780465008087, 256pp.
Publication Date: December 27, 1996
* Individual store prices may vary.
Description
The long-awaited new book by the author of the bestselling All Our Kin is a poignant saga of a reverse exodus: the return of half a million black Americans to the rural South.There have been many books focusing on the black migration out of the South into Northern cities. But few people are aware that over the past 20 years the trend has been in the other direction, with African-Americans moving back south, to some of the least promising places in all of America—places the Department of Agriculture calls "Persistent Poverty Counties." Carol Stack brings their stories to life in this captivating book. Interweaving a powerful human story with a larger economic and social analysis of migration, poverty, and the urban underclass, Call to Home offers a rare glimpse of African-American families pulling together and trying to make it in today's America.
About the Author
Carol B. Stack is professor of women's studies and education at the University of California at Berkeley. The author of All Our Kin and numerous articles on poverty and social policy, she is also past president of the Society for Urban Anthropology. She was awarded the Prize for Critical Research in 1995 from the Society for the Anthropology of North America. She has received Guggenheim, Rockefeller, and Russel Sage Fellowships. She returns often to a home in North Carolina.
or
Not Currently Available for Direct Purchase