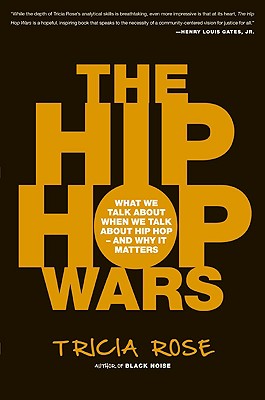 The Hip Hop Wars
What We Talk About When We Talk About Hip Hop--and Why It Matters
Paperback

* Individual store prices may vary.
Other Editions of This Title:
Paperback (9/26/2017)
Description
How hip hop shapes our conversations about race -- and how race influences our consideration of hip hop

Hip hop is a distinctive form of black art in America-from Tupac to the Pulitzer Prize-winning Kendrick Lamar, hip hop has long given voice to the African American experience. As scholar and cultural critic Tricia Rose argues, hip hop, in fact, has become one of the primary ways we talk about race in the United States.

But hip hop is in crisis. For years, the most commercially successful hip hop has become increasingly saturated with caricatures of black gangstas, thugs, pimps, and hos. This both represents and feeds a problem in black American culture. Or does it? In The Hip-Hop Wars, Rose explores the most crucial issues underlying the polarized claims on each side of the debate: Does hip hop cause violence, or merely reflect a violent ghetto culture? Is hip hop sexist, or are its detractors simply anti-sex? Does the portrayal of black culture in hip hop undermine black advancement?

A potent exploration of a divisive and important subject, The Hip Hop Wars concludes with a call for the regalvanization of the progressive and creative heart of hip hop. What Rose calls for is not a sanitized vision of the form, but one that more accurately reflects a much richer space of culture, politics, anger, and yes, sex, than the current ubiquitous images in sound and video currently provide.
Praise For The Hip Hop Wars: What We Talk About When We Talk About Hip Hop--and Why It Matters…
"While the depth of Tricia Rose's analytical skills is breathtaking, even more impressive is that at its heart,
The Hip Hop Wars
is a hopeful, inspiring book that speaks to the necessity of a community-centered vision for justice for all."—
Henry Louis Gates, Jr
"In
The Hip Hop Wars
, Tricia Rose has thrown down the gauntlet and taken up the brutal issues that confront hip hop culture. Dispatching hip hop's haters and sycophants with equal skill, she has given us a bracing and brilliant salvo from the front line of hip hop's war for definition and survival."—
Michael Eric Dyson
"Tricia Rose is the distinguished dean of hip hop studies in America. Her recent book not only affirms this grand status but also transforms our understanding of the present and future of hip hop-and race-in America. Rose's courageous voice and progressive vision are so badly needed at this time!"
—
Cornel West
"A loving, smart, and searing critique from the pioneer of Hip Hop studies,
The Hip Hop Wars
breaks the impasse between those who always regarded the music as the source of our contemporary moral panic, and those hardcore defenders willing to justify anything in the name of 'keeping it real.' Tricia Rose not only brings sanity and intelligence to the debate, but at the back of every criticism, complaint, and concern is a social justice agenda. If you care about our future, read this book."—
Robin D. G. Kelley, author of Freedom Dreams: The Black Radical Imagination
"
The Hip Hop Wars
is Crisis of the Negro Intellectual for the new millennium. Tricia Rose's take on hip hop is smart, provocative, analytical, and gutsy."—
Jill Nelson, author of Volunteer Slavery: My Authentic Negro Experience
"
The Hip Hop Wars
is a conversation changing book. It gives music fans, political progressives, parents, pop culture aficionados and scholars what we need to put a stop to stupid arguments-and address what really matters when we talk about hip hop."—
Lisa Duggan, author of Twilight of Equality
"Works such as Rose's
The Hip Hop Wars
...based on a deep love for the music and a concern for the people who make it, listen to it, and care about it-we need a lot more of those."
—
Current Musicology
"[Tricia Rose is] a poetic voice of equanimity and strategic anger...Rose has the capacity to parse out the different threads of argument, examine them, and then tear them apart...The fact that she's traveling the middle path here, neither defending nor attacking hip hop, makes for a really nuanced, thought-provoking reading...It's harder to write when you're not making grand pronouncements and one-sided judgments. Rose does a beautiful job."
—
Feministing.com
"The book's clear strength is Rose's strong voice and tight research. Her exploration of the infamous Imus-gate, the effect of governmental policies such as incarceration over rehabilitation, and the question of what to expect from "role models" are all sound and compelling...Rose is definitely a fair critic."
—
Buffalo News
"Renowned cultural critic Rose ventures again into the world of hip-hop and produces another work that should challenge common feelings about the subject...It's Rose's convincing arguments and challenges of assumptions that make this an important title."
—
Library Journal
"In this impassioned and brilliant book, Tricia Rose shows how hip hop has been harmed by both its friends and its foes, how the myths spread by both its attackers and defenders hurt the people who created hip hop in the first place. In an age where both government policy and private profiteering have promoted the organized abandonment of Black communities, debates about hip hop hide larger agendas about race, sex, and money.
The Hip Hop Wars
exposes the music industry and its myths, but even more important, explains what we can and must do about them."—
George Lipsitz, author of Footsteps in the Dark
"A powerful blueprint for artists and community organizers who dare reclaim the magnificence of hip-hop culture from the matrix of mainstream distortions,
The Hip-Hop Wars
persuasively argues the ways that hip-hop in the last decade has become synonymous with Blackness. Hip-hop's most fierce cultural critic has given us an essential tool for deciphering both hip-hop and race in a post-racial global world."—
Bakari Kitwana, author of Why White Kids Love Hip-Hop
Civitas Books, 9780465008971, 320pp.
Publication Date: December 2, 2008
About the Author
Tricia Rose is a professor of Africana Studies at Brown University. She specializes in twentieth- and twenty-first-century African-American culture and politics, social thought, popular culture, and gender issues. The author of the seminal Black Noise, she lives in Providence, Rhode Island.