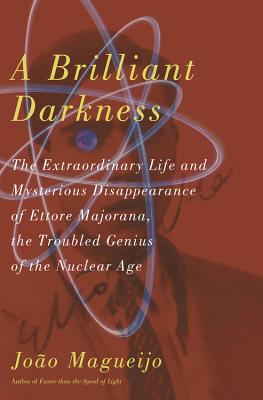 A Brilliant Darkness
The Extraordinary Life and Mysterious Disappearance of Ettore Majorana, the Troubled Genius of the Nuclear Age
Hardcover

* Individual store prices may vary.
Description
On the night of March 26, 1938, nuclear physicist Ettore Majorana boarded a ship, cash and passport in hand. He was never seen again. In A Brilliant Darkness, theoretical physicist Joao Magueijo tells the story of Majorana and his research group, "the Via Panisperna Boys," who discovered atomic fission in 1934. As Majorana, the most brilliant of the group, began to realize the implications of what they had found, he became increasingly unstable. Did he commit suicide that night in Palermo? Was he kidnapped? Did he stage his own death?

A Brilliant Darkness chronicles Majorana's invaluable contributions to science -- including his major discovery, the Majorana neutrino -- while revealing the truth behind his fascinating and tragic life.
Praise For A Brilliant Darkness: The Extraordinary Life and Mysterious Disappearance of Ettore Majorana, the Troubled Genius of the Nuclear Age…
Publishers Weekly
"Part mystery, part biography and part nuclear physics primer…. Magueijo's examination of Majorana…reveals a troubled, confounding man whose disappearance has inspired as many conspiracy theories as the Roswell incident."

Library Journal
"[Magueijo] could have easily fallen into the jargon of his profession to describe the work of a fellow scientist, but he does not. His clear explanation of Majorana's insight into nuclear physics, often accompanied with drawings and illustrations, will appeal to a wide audience."

SEEDMagazine.com
"A Brilliant Darkness excavates Majorana's troubled life, explaining his contributions to physics and uncovering new clues about his peculiar disappearance more than 70 years ago."

Booklist (starred review)
"Magueijo explains [Majorana's] scientific theories in mercifully simple terms. But what simple terms can illuminate a tortured and unstable personality, vulnerable to bouts of depression and prone to antisocial reclusiveness? The complexities of that personality resist assimilation into any of the standard explanations – suicide, kidnapping, flight, monastic retreat – for Majorana's disappearance. But astounded readers will thank Magueijo for his daring venture into the science and the psyche of a perplexing figure."


Basic Books, 9780465009039, 304pp.
Publication Date: November 24, 2009
About the Author
Joao Magueijo has taught at Cambridge University, Princeton University, and the University of California, Berkeley. He currently holds a Chair in Theoretical Physics at Imperial College, London. Author of Faster Than the Speed of Light, he lives in London.