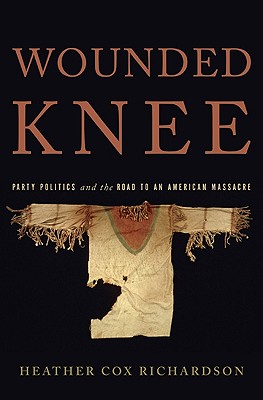 Wounded Knee: Party Politics and the Road to an American Massacre (Hardcover)
Party Politics and the Road to an American Massacre
Basic Books, 9780465009213, 392pp.
Publication Date: May 4, 2010
* Individual store prices may vary.
or
Not Currently Available for Direct Purchase
Description
An acclaimed historian uncovers the story behind the massacre at Wounded Knee, demonstrating how party politics in Washington, D.C. made the South Dakota catastrophe inevitable
About the Author
Heather Cox Richardson is Professor of History at the University of Massachusetts, Amherst. She is the author of West from Appomattox; The Greatest Nation of the Earth; and The Death of Reconstruction. She lives in Winchester, Massachusetts.
Praise For Wounded Knee: Party Politics and the Road to an American Massacre…
Richard W. Etulain, author of Beyond the Missouri: The Story of the American West
"In this provocative history Heather Cox Richardson traces the close linkages among late-nineteenth century politics, the West, and the horrendous Wounded Knee incident of 1890-91. No previous study has uncovered the full political account the author provides in this thorough, convincing volume."

Elliott West, Alumni Distinguished Professor of History at the University of Arkansas, and author of The Contested Plains and The Last Indian War
"In Wounded Knee, Heather Cox Richardson continues her path breaking work in bringing the American West into its rightful place in the remaking of the nation during and after the Civil War. Here she portrays one of the most infamous events of its time as a consequence of politics, both in its seediest maneuverings and its more ennobling impulses. The story is tragic, the scholarship exhilarating, and the book is a must read for anyone drawn to this troubling and fascinating time."

Walter A. McDougall, Professor of History at the University of Pennsylvania, Pulitzer Prize winner for The Heavens and the Earth, and author of Throes of Democracy: The American Civil War
"This poignant, professional history appears almost thirty years after Bury My Heart at Wounded Knee, but could not be more timely as Americans face anew the human cost of their polarized politics, media spin, greed, hustling, pretense, and inept paternalism toward subject peoples. Richardson's research reveals that even an Indian massacre is far more than a simple matter of racism."

Leonard L. Richards, author of The California Gold Rush and the Coming of the Civil War
"With a mastery that brings even her bit players to life, Heather Cox Richardson has given us a fresh and vivid account of the greed, partisan politics, prejudice, and butchery that led to the massacre at Wounded Knee. The result is a superb book, history at its very best."

Ari Kelman, Associate Professor of History at the University of California, Davis, and author of A River and Its City: The Nature of Landscape in New Orleans
"Heather Cox Richardson explodes the myth that the tragedy at Wounded Knee was simply an unfortunate accident or an outgrowth of cross-cultural misunderstandings on the frontier. Instead, she proves that the massacre emerged out of misguided federal Indian policies and, above all else, partisan politics. The story is chilling. You'll want to put it down, but because it's so well told here, you won't be able to."

Eric Rauchway, Professor of History at the University of California, Davis, and author of Blessed Among Nations and Murdering McKinley
"A gifted historian with a talent for narrative, Heather Cox Richardson uses her skills here to show that the killings at Wounded Knee might have happened at the edge of America, but they happened because of conflicts at the center of the nation's capital and the heart of the political struggles of the nineteenth century. A terrific book."

William Deverell, Director of the Huntington-USC Institute on California and the West
"Beyond grace and intelligence, what makes this book so important is that it demonstrates how one of the most tragic moments in all of American history is best understood not only as a spasm of genocidal violence but as something emerging from the everyday processes of politics and culture in the late nineteenth century. It is precisely that mixture of the banal and the horrific that makes this book compelling, significant, and deeply troubling."

Library Journal
"[Richardson argues] that the Wounded Knee Massacre (1890) was the inevitable end result of Reconstruction politics, which featured bitter partisanship and a media establishment run amok…. [A] well-crafted study of the Reconstruction era."

Gannett News Service
"In Wounded Knee, Richardson examined heretofore mostly overlooked papers of President Benjamin Harrison and other recently discovered documents to conclude that Washington politics and other factors led to the blood at Wounded Knee."

Booklist
"The latest scholarly analysis of the causes leading to this tragic event takes a unique tack…. [A] meticulously documented account." Boston Globe"In Wounded Knee, Heather Cox Richardson … combines a solid account of the political context with a vivid and moving narrative of events that led to the slaughter of about 300 Sioux in South Dakota…. Wounded Knee is a tale of tragic heroes." Chicago Tribune"Heather Cox Richardson's superb new book should come labeled: Warning! Reading the contents may lead to depression. A disclaimer might also be helpful: Author is not responsible for disturbing recurring historical themes such as: the perils of partisan politics, patronage, and news reporting; the dangers of doing the bidding for big business; the battle for turf between the military and the civilian bureaucracy; the mistreatment of the disenfranchised in the name of American prosperity; and the cover-up of a deadly military miscalculation…. Richardson's greatest contribution is her meticulously researched, groundbreaking analysis of the tragedy's root causes."
Advertisement