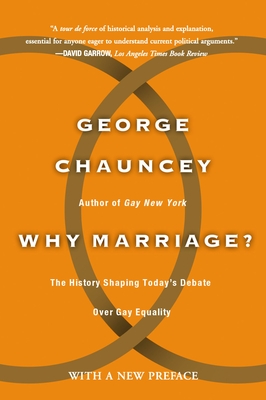 Why Marriage (Paperback)
The History Shaping Today's Debate Over Gay Equality
Basic Books, 9780465009589, 224pp.
Publication Date: December 13, 2005
Other Editions of This Title:
Hardcover (9/1/2004)
* Individual store prices may vary.
Description
Angry debate over gay marriage has divided the nation as no other issue since the Vietnam War. Why has marriage suddenly emerged as the most explosive issue in the gay struggle for equality? At times it seems to have come out of nowhere-but in fact it has a history. George Chauncey offers an electrifying analysis of the history of the shifting attitudes of heterosexual Americans toward gay people, from the dramatic growth in acceptance to the many campaigns against gay rights that form the background to today's demand for a constitutional amendment. Chauncey illuminates what's at stake for both sides of this contentious debate in this essential book for gay and straight readers alike.
About the Author
George Chauncey is professor of American history at the University of Chicago and the author of Gay New York: Gender, Urban Culture, and the Making of the Gay Male World, 1890-1940, which won the distinguished Turner and Curti Awards from the Organization of American Historians, the Los Angeles Times Book Prize, and the Lambda Literary Award. He testified as an expert witness on the history of antigay discrimination at the 1993 trial of Colorado's Amendment Two, which resulted in the Supreme Court's Romer v. Evans decision that antigay rights referenda were unconstitutional, and he was the principal author of the Historians' Amicus Brief, which weighed heavily in the Supreme Court's landmark decision overturning sodomy laws in Lawrence v. Texas (2003). The recipient of a Guggenheim Fellowship, he lives and works in Chicago.