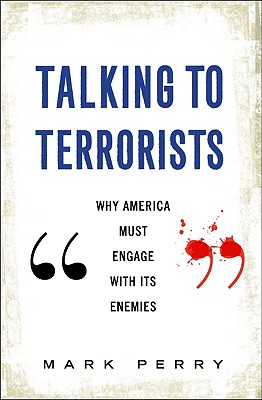 Talking to Terrorists
Why America Must Engage with its Enemies
Hardcover

* Individual store prices may vary.
Other Editions of This Title:
Paperback, Large Print, Large Print (11/1/2010)
Paperback (3/8/2011)
Description
It has long been an article of faith that the United States does not "talk to terrorists"--that to engage in dialogue with groups such as Hamas, Hezbollah, and the Muslim Brotherhood would be tacitly to acknowledge their status as legitimate political actors. Not so, argues Middle East expert Mark Perry. In the absence of dialogue, we have lumped these groups together with Al Qaeda as part of a monolithic enemy defined by a visceral hatred of American values. In reality, while they hold deep grievances about specific US
policies
, they are ultimately far more defined by their opposition to the deliberately anti-political Salafist ideology of Al Qaeda.
Drawing on extensive interviews with Washington insiders, Perry describes fruitful covert meetings between members of the US armed forces and leaders of the Iraqi insurgency to demonstrate that talking to terrorists may be best way to end terrorism--controversial wisdom we ignore at our peril.
Praise For Talking to Terrorists: Why America Must Engage with its Enemies…
David Rose, contributing editor, Vanity Fair
"Very few westerners understand the Middle East and its politics as well as Mark Perry, and the reason for his insights lies in this book: unlike most diplomats, journalists and academics, he derives his knowledge of organizations such as Hamas, Hezbollah and the Sunni national resistance in Iraq not from second-hand sources but close personal contact. Not only has he talked to those generally labeled and dismissed as terrorists, he offers here a clear definition of when such groups are worth talking to, in the sense that doing so may create real opportunities for peace, and when (as in the case of al-Qaeda) they clearly aren't. Beautifully written, this is both a gripping narrative and a piece of compelling advocacy, casting new light on some of the historic catastrophes of the present and recent past."

Publishers Weekly
"Contributes a worthy commentary on contemporary Middle Eastern history and a valuable argument for communication between America and her enemies."

The New Yorker"[Mark Perry's] writing conveys a strong impression that he has not spent his career merely watching the action from a safe seat in the bleachers…[his] tone calls to mind a Tom Clancy novel… It's startling to read about American military commanders in the field taking on a freelance diplomatic mission of this magnitude, and to imagine that there was a businessman in Amman who, on the right terms, could have snapped his fingers and ended what we back home thought of as pervasive, wild-eyed jihad."
Basic Books, 9780465011179, 272pp.
Publication Date: January 5, 2010
About the Author
Mark Perry is a military, intelligence, and foreign affairs analyst and writer. His articles have appeared in The Nation, the Washington Post, and the Los Angeles Times, among other papers. He is the author of seven books, including Grant and Twain and Partners in Command. He lives in Arlington, Virginia.
or
Not Currently Available for Direct Purchase