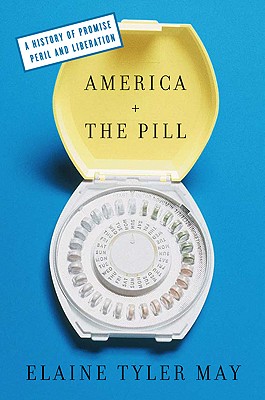 America and the Pill (Hardcover)
A History of Promise, Peril, and Liberation
Basic Books, 9780465011520, 224pp.
Publication Date: April 6, 2010
Other Editions of This Title:
Paperback (9/6/2011)
* Individual store prices may vary.
Description
A revealing new look at the groundbreaking form of contraception that enabled women to control their lives and transform the world
About the Author
Elaine Tyler May is Regents Professor in the Departments of American Studies and History at the University of Minnesota. She is the author of several books, including Homeward Bound and Barren in the Promised Land. She has contributed to Ms., the Los Angeles Times, the New York Times, and more. She is 2009-2010 President of the Organization of American Historians. She lives in Minneapolis, Minnesota.
Praise For America and the Pill: A History of Promise, Peril, and Liberation…
Judith Walzer Leavitt, Professor of Gender and Women's Studies at University of Wisconsin, and author of Make Room for Daddy: The Journey From Waiting Room to Birthing Room
"Full of vivid stories of real people and new historical insights, May's book provides a lucid account for the fiftieth anniversary of The Pill, which, in conjunction with social and political changes – most importantly the feminist movement – helped women to control their reproduction and change their lives. Very highly recommended!"

Rickie Solinger, author of Pregnancy and Power: A Short History of Reproductive Politics in America
"An elegant, engaged, and very accessible history of the pill's half-century of impact."

Lois Banner, Professor of History and Gender Studies, University of Southern California
"Elaine Tyler May has written a brilliant book, both personal and historical, about the development of the birth control pill and its meaning in women's lives. May has effectively explored its linkages to international events, scientific developments, issues of race and class, and the sexual revolution of the 1960s and after. Exposing myths and revealing truths, this book, a pleasure to read, is certain to become definitive on a subject of crucial interest to all Americans."

Courtney E. Martin, Editor at Feministing.com and author of Perfect Girls, Starving Daughters: The Frightening New Normalcy of Hating Your Body
"It takes a top-notch historian to separate myth from fact. On the historic 50th anniversary of the birth control pill, Elaine Tyler May reminds us that modern contraception has not been a destabilizing force, as so many fear mongers would have us believe. To the contrary it has served as a powerful agent of change in the lives of married women liberated to balance work and family and to realize their full potential as human beings. By helping to elevate the status of women, birth control has promoted prosperity and well-being in America and around the world."

Margaret Marsh, Dean, Faculty of Arts and Sciences and University Professor of History, Rutgers University
"Elaine Tyler May is one of those rare historians who can take a set of complicated issues and make them both fascinating and comprehensible. This book belongs on the bookshelf of anyone who wants to understand how the Pill changed the lives of women -- and men."

Ellen Chesler, author of Woman of Valor: Margaret Sanger and the Birth Control Movement in America
"Before the iPod, before email, before personal computers even, the technology that truly changed the country was one little pill. Elaine Tyler May explores everything from population control to Playboy, libido to liberation in this fascinating look at how the birth control pill has affected Americans at work and play since its inception in 1960. May's eye for colorful anecdotes and cultural iconography make this a delightful journey. Women who remember when the pill was approved by the FDA will rejoice in this hindsight view of how it influenced the personal and the political, while a new generation will feel deeply grateful for the rights and liberties that they've taken for granted. This is history for people who are serious about sex."

Estelle B. Freedman, Edgar E. Robinson Professor in U.S. History at Stanford University, and author of No Turning Back: The History of Feminism and the Future of Women
"With characteristic clarity and wit, May has produced a compelling history of oral contraception that incorporates medicine, morals, and popular media. In concise and carefully crafted chapters she honors the feminists who enabled the initial research, explores the utopian hopes that the pill would solve world problems, and exposes the myths about its revolutionary impact. This balanced assessment of the pill takes into account not only science, religion, and the law but especially brings to light the complex voices of the women who have both embraced and rejected oral contraception. A wonderful read for students and a timely source for professionals and the public concerned about sexuality, reproduction, and social policy."

Beth Bailey, Professor of History at Temple University, and author of Sex in the Heartland and From Front Porch to Back Seat: Courtship in Twentieth-Century America
"Elaine May shows us a world in which the impact of the Pill was compared to that of the atom bomb, in which the Pill was condemned as a cause of promiscuity, heralded as a solution to global poverty, and embraced as a tool of liberation. Combining her commitment to a better world with remarkable historical insight, May has written a book for those who found their lives transformed by the Pill and for those who have always taken it for granted."

William H. Chafe, Alcie Mary Baldwin Professor of History at Duke University and former president of the Organization of American Historians
"Brilliantly written and cogently argued, Elaine Tyler May's America and the Pill beautifully portrays the intersection of the sexual revolution, the rise of feminism, and the emergence of the birth control pill. With a keen sense of how culture and politics interact, she explores all the ramifications of this extraordinary change, especially through the words of the women most directly affected. This is a tour de force."

Publisher's Weekly
"May hits pay dirt with this brief but lively history of oral contraceptives on the 50th anniversary of 'the pill.' She places the pill in its historical context… Drawing on an Internet survey she conducted, May offers a treasure trove of stories about a medical and cultural movement that convinced a whole generation of women they were 'free to take sex, education, work and even marriage when and how they like.'"

Library Journal
"May's focus is on the political and cultural implications of the pill within American society. Using archival research and oral interviews, she shows that the pill has been used as an instrument of empowerment for women. As a tool in arguments over population control, family planning, and feminism, the pill has had unanticipated implications for gender, class, race, and economic status.… Recommended for both general popular culture collections and academic libraries supporting a gender studies program."
Discover
"The author's parents worked on early contraceptives, and May participated in some clinical trials during the 1970s. This perspective pervades her story of the Pill, which bounds through tales of ethically questionable testing and power struggles over the drug that became a part of daily life for millions of women."
Booklist
"[A] noteworthy uncontentious précis of the pill's half-century in American life…. Understanding that the book is fundamentally, nonargumentatively pro-pill, one couldn't ask for a better short history of its subject."
The American Prospect
"May's material is fascinating…. Although America and the Pill is sometimes celebratory, it is actually most useful in illuminating some of the darker corners of the pill's history, a history that women's health activists ought to know."

Newsweek.com"May's history makes clear that the pill was not developed in a vacuum; it was an innovation whose moment came just as women's lives were being transformed on many levels. Even 50 years later, we're still debating the consequences."

Boston Globe "May writes [that] the pill profoundly benefited married women, who were now able to expand the time between wedding and babies, filling it with educational and occupational opportunities previously unavailable to them. It's in such small but seismic shifts, this slender but important book reminds us, that history is made."

Books & Culture
"[A] fascinating short history of oral contraception…. May argues, persuasively, that 'the pill had its greatest impact within marriage.'"

Bitch
"[I]n America and the Pill, historian Elaine Tyler May tidily debunks perceptions of oral contraception as feminism's magic bullet…. America and the Pill is a lean, captivating history…. May is a skilled writer, and she weaves the book's abundant personal accounts of women's experiences with the Pill with discussion of governmental policies and historical records to create clear and legible scholarship. By the end of America and the Pill, I hadn't just learned about the Pill—I had a better sense of our nation's cultural history."

Washington Post
"May argues succinctly – at just over 200 pages, the book is as compact and powerful as the pill itself – that expectations for [the pill] were too high…. [She] devotes many pages to delineating the moral and physical risks posed by the pill, and rightfully so. But there are lots of reasons to celebrate the pill, and she is at her best when allowing herself to do that. She gives a wonderful account of Margaret Sanger's advocacy and also of Katharine McCormick, a women's rights activist who bankrolled the pill's development. Likewise, she skillfully shows how women fought for access to the pill, as well as for a safer pill, against some pretty big contenders, pharmaceutical companies and the Catholic Church among them."

Reason
"May touches on women's reactions to the Pill, but her best passages describe male counterpoints to those feminine conversations. In the 1960s, in many ways, the male chatter still mattered more. America + The Pill is slim, and it relies heavily on secondary sources. But it is packed with the words of bewildered men so desperately trying to use the Pill to alleviate geopolitical concerns that they failed to understand the private revolution under their noses." Reason (Best Books of 2010)
"Elaine Tyler May's America and The Pill makes well-trodden territory fresh again in her chapters on the men involved in the invention, sale, and vilification of the baby-prevention tablets. They hoped convenient hormonal contraception would stave off nuclear war, stem the rise of communism in the third world, and defuse the population bomb. They feared that unleashed female desire would turn women into ravenous man-eaters. Five decades later, the jury is still out on all counts." The Bulletin of the History of Medicine
"One of the hallmarks of May's work is her creative use of surveys and calls for personal testimonies, incorporating the voices of individual women and men into social history and thereby adding texture to her analysis of broad historical trends." The Journal of America History"America and the Pill concisely explains the development, evolution, and influence of this revolutionary technology on American culture from the 1950s through the present…. May has written an accessible, engaging text that commemorates an important contraceptive revolution."
The New Republic"The Pill kicked off a revolution in assumptions about sex and its consequences. Elaine Tyler May's adept, succinct book makes it clear that the appearance of worry-free contraception immediately concretized the idea that choices about reproduction should be left to the individuals involved."
or
Not Currently Available for Direct Purchase